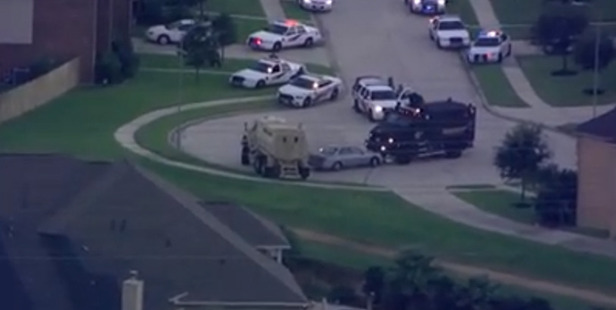 Six people are dead, including four children, after someone opened fire at a home in a normally quiet neighborhood in a northern Houston suburb.
A spokesman for the Harris County Precinct 4 Constable's Office says a woman was wounded.
No information was immediately available on identities or how the victims were related.
A Harris County Sheriff's Office statement says precinct deputy constables were called to the house about 6pm Wednesday (local time) and found two adults and three children dead.
Another child later died at a hospital.
The wounded woman was able to identify the gunman and direct deputies to him.
Those deputies cornered the suspect in a nearby cul-de-sac, where he remains in his vehicle surrounded by armed deputies and at least a dozen patrol cars.
A large SWAT vehicle rammed into the vehicle, crushing the front of it while a second SWAT vehicle pulled directly behind the man's car and rammed it from the back.
The standoff is ongoing.
5 children, 1 adult shot dead in Spring subdivision; SWAT standoff underway with shooter http://t.co/078ARM9FkJ #KHOU pic.twitter.com/jm1x7RSJ1B

— KHOU 11 News Houston (@KHOU) July 10, 2014
- AP and Daily Mail