Queen christens massive aircraft carrier with bottle of whiskey.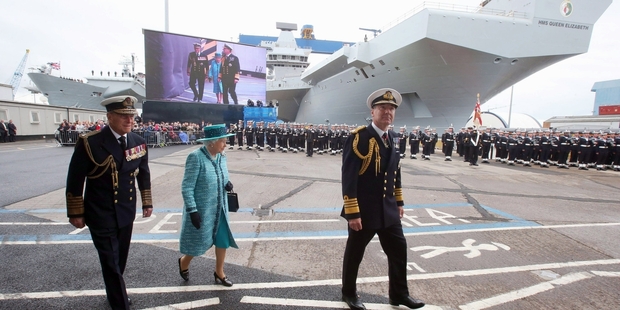 Britain's new 274m-long warship, named yesterday by the Queen, is taller than Niagara Falls, has room for four jumbo jets and at 65,000 tonnes is the biggest Britain has ever built.
The HMS Queen Elizabeth was officially christened with a vintage bottle of Islay single malt whisky at Rosyth Dockyard.
When fully operational the aircraft carrier will carry 36 F-35 Lightning fighter jets.
As well, more than 1000 troops can live and work on the ship, which will be able to cover 800km each day.
Addressing the crowd the Queen said the "innovative and first-class" warship, the largest ever to be built in the UK, ushered in an "exciting new era".
The construction of HMS Queen Elizabeth created around 8000 jobs at more than 100 companies across the UK.
Blocks of the ship were manufactured at six yards in Devon, Fife's Rosyth, Portsmouth and on the Clyde and Tyne before being assembled in Rosyth's dockyards.
Defence Secretary Philip Hammond said: "HMS Queen Elizabeth is the largest ship that the Royal Navy has ever had and is a true demonstration of the UK at its best, with over 10,000 people across the country working together to deliver her."
After the naming ceremony the dock was flooded to enable the ship to float for the first time.
Work will soon begin to prepare the ship for sea trials in 2017 and flight trials with Lightning II aircraft in 2018.
Work is already under way on a sister ship, HMS Prince of Wales.
That vessel will start to be assembled in Rosyth dockyard later this year.