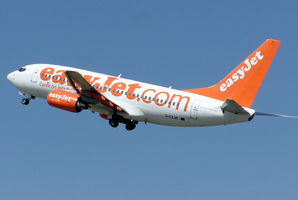 A French court fined British budget airline easyJet 60,000 euros for refusing to let a partially paralysed woman fly unaccompanied to her son's funeral.
The fine for discrimination is the second slapped on the airline this year in France.
In February, the carrier was fined 50,000 euros for having forced a disabled woman off a flight.
The court in the Paris suburb of Bobigny also slapped a 30,000-euro fine on Europe Handling, a company hired by easyJet to carry out passenger registrations and check-ins at Paris's Charles de Gaulle airport.
The complainant, a 65-year-old woman who is paralysed on one side, was prevented by easyJet from travelling from Paris to Portugal in October 2009 because she was unaccompanied.
She then bought a ticket with another airline and made it to the funeral and filed a suit for discrimination upon her return.
In the other case, easyJet was fined for forcing a wheelchair-bound woman off a Paris-Nice flight in March 2010 on the same grounds.
Cabin crew had told the 39-year-old that she could not travel alone because she could not reach an emergency exit without assistance.
- AFP