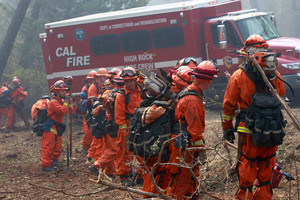 A raging wildfire in rural Northern California that spread over eight square kilometres and forced the evacuation of 200 homes in Napa County continues to grow, officials said Wednesday.
By early evening, the Butts Fire in remote Pope Valley grew to 3800 acres from 3200 acres, said Daniel Berlant, a spokesman for the California Department of Forestry and Fire Protection. The blaze is not threatening any major vineyards, Berlant and a spokeswoman for a vintners association said.
Read more:
* Police fear wildfire arson
* California's drought sparks fears for future
* California's drought sparks fears for future
More than 1000 firefighters were hoping to get a better handle on the blaze after they made progress overnight, Berlant said. But fire activity increased about noon on Wednesday, local time, as temperatures again passed 30C and the blaze continued burning northeast into neighboring Lake County. The blaze is 30 percent contained, officials said.
"We're hoping that once the sun goes down, the temperature will as well and the humidity will also rise to give us another chance to increase containment," Berlant said.
Crews have requested more bulldozers from across the state to assist the dozen on site in strengthening containment lines, Berlant said.
Watch: Wildfires fuel concern in Australia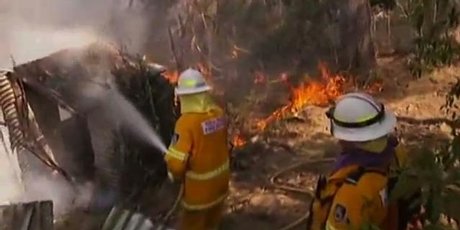 The fire has damaged one home and four outbuildings. In addition to the mandatory evacuations, another 180 homes were threatened. No injuries have been reported, and the cause of the fire remains unknown.
The fast-moving blaze began on Tuesday afternoon in Napa County. Within hours, it covered 600 acres and then spiked to 2700 acres by late evening as it spread northeast. State firefighters and crews from Napa, Lake and Solano counties spent a second day working in 32C.
The high temperatures were expected to continue. The fire exploded because of dry conditions across the state, Berlant said.
The fire is not affecting the lucrative Napa Valley vineyards nearby, fire officials said. Pope Valley is about 32 kilometres north of Napa Valley.
Cate Conniff, a spokeswoman for the Napa Valley Vintners, a nonprofit trade association, agreed. "It has not come anywhere close to what we consider Napa Valley wineries. It is moving in the opposite direction, and it continues to move that way. We're keeping an eye out on it," Conniff said.
Gov. Jerry Brown said he had secured federal funds to help fire departments absorb some of the cost of fighting the blaze.
Elsewhere in California, firefighters were surrounding a blaze in Shasta-Trinity National Forest that forced the evacuation of about 15 homes. Forest spokeswoman Andrea Capps said the fire has burned through 35 acres since it started on Tuesday, and was 70 percent contained.
- AP