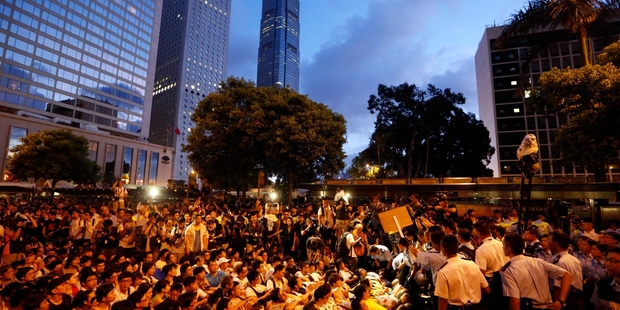 Thousands of protesters took part in a pro-democracy march in Hong Kong, in a turnout believed to be one of the largest since the city was handed back to China.
The demonstrators poured on to the rain-soaked streets as tensions between activists and the Communist Party increased. Carrying banners reading, "We will never surrender" and "Our home, our say," crowds packed Hong Kong's waterfront Victoria Park before marching for more than 3km to the financial district.
"We want true democracy and that is why we are here," said Andrew Shum, one of the organisers. "In a country or city with the spirit of democracy everyone has the right to speak out." Johnson Yeung, another rally organiser, said "510,000 people attended the march." Hong Kong University researchers put the number at between 154,000 and 172,000 and police said 98,600 people joined the rally at its peak. Police arrested 511 people.
The march is held each year to mark the anniversary of Hong Kong's return to China.
Pro-democracy groups have been pushing for the right to elect candidates for Hong Kong's chief executive by 2017. More than 790,000 people took part in a "civil referendum" to highlight public support for those proposals. Beijing issued a policy document last month in which it reminded opponents that Hong Kong had no option but to accept the Communist Party's "comprehensive jurisdiction".