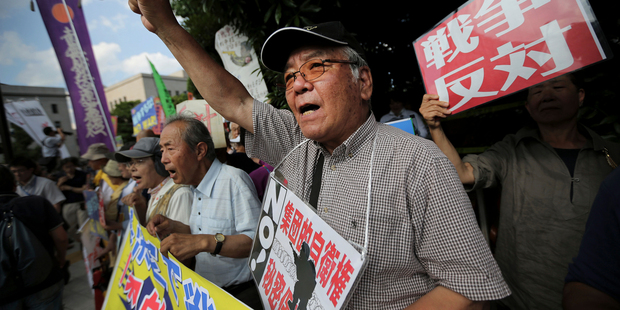 Since Japan's defeat in World War II, its military has been shackled by restrictions imposed by a victorious United States and that, over time, a majority of Japanese adopted as their own. Now, the shackles are being loosened.
Japan's Cabinet has approved a reinterpretation of the country's pacifist postwar constitution that will allow the military to help defend allies and others "in a close relationship" with Japan under what is known as "collective self-defence".
Previous governments have said the war-renouncing Article 9 of the constitution limited the use of force to defending Japan.
Prime Minister Shinzo Abe said Japanese warships would be able to help protect US ships that were defending Japan.
"Peace is not something you expect to be given, but it's something that we must achieve on our own," he said.
The issue has divided Japan, where many worry about China's growing military assertiveness but also support the anti-war clause of the constitution and fret about a possible slide towards the militarism that led to World War II.
About 2000 people protested outside Abe's office, saying that any change to the constitution should be made through a public referendum.
"For 70 years, Japan has kept its peace with its constitution," said 67-year-old protester Toshio Ban. "What are we to do with that stupid man trying to trample over the precious constitution?"
The move drew sharp criticism from China, and a cautious reaction from South Korea, which was colonised by Japan from 1910 to 1945.
"Beijing opposes Japan's act of hyping the China threat," Chinese Foreign Ministry spokesman Hong Lei said. The new policy "raises doubts about Japan's approach to peaceful development".
South Korean Foreign Ministry spokesman Noh Kwang Il said: "The South Korean Government views it as a significant revision to the defence and security policy under the postwar peace constitution, and is paying a sharp attention to it." In Washington, State Department deputy spokeswoman Marie Harf said the US welcomes Japan's new policy. "As you know, the US-Japan alliance is one of our most important partnerships, security partnerships. And we value efforts by Japan to strengthen that security co-operation," Harf said.
What Japan will be able to do
Defend US warships: Protecting US warships being attacked by a third country near Japanese waters before an imminent, direct attack on Japan, because co-operation with US troops is seen as vital for Japan's survival.
Stop ships for inspection: Forcibly stopping vessels for inspection when they are believed to be carrying weapons to a third country attacking US warships in the open sea near Japan while the battle seems highly likely to spill over to Japan - a step currently considered unconstitutional.
Shoot down missile fired at US: Intercepting a ballistic missile when it's detected as heading toward Hawaii, the US territory of Guam or the US mainland, flying over the Japanese archipelago and requested by America to do so.
Protect peacekeepers: Rescuing with weapons civilians engaged in UN-backed peacekeeping operations.
Minesweeping in Mideast: A plan still being contemplated would allow Japanese forces to participate in UN-led multinational minesweeping efforts to secure sea lanes in the Middle East.