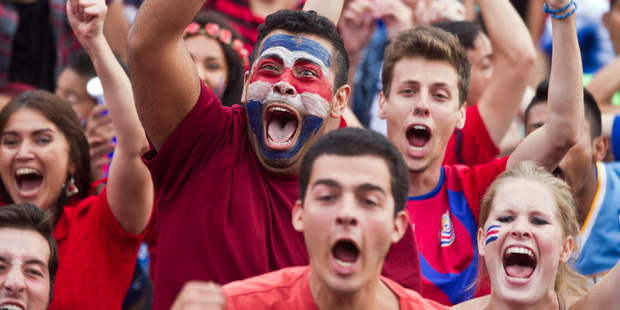 From the beaches to the capital, Costa Ricans have poured into the streets to celebrate the national team's historic World Cup victory over Greece that will put the team in the quarter finals for the first time.
Watch: Costa Rica beat Greece in shootout

Fans in the capital of San Jose gathered at the Fuente de la Hispanidad, a fountain and traditional celebrating spot, carrying flags, wearing wigs and jerseys, honking and whooping following the team's win in a penalty shootout.
"The country has fallen. There's been an earthquake," said restaurateur Teo Prestinary, 43, on the beach in Nosara, where he said it was jammed with countrymen cheering, whistling and singing "Vamos Ticos," or "Go, Costa Ricans".
"It's beautiful. It's historic, emotional."
Read more:
* Costa Rica win shootout
Maria Mendoza, 33, watched the celebration on television from nearby Santa Ana, said she was, "happy, happy, happy."
Costa Rica reached today's match against Greece after defeating Uruguay and Italy and tying England in a division where it was considered the weakest team.
It won in a 5-3 shootout after the game ended 1-1 following extra time.

Costa Rica soccer fans celebrate in San Jose, Costa Rica. Photo / AP
Now Costa Ricans say they could go all the way.
"We always had faith," said Luis Diego Escorriola, 42, as he prepared to join the celebration. "The entire country is going to the streets."
- AP