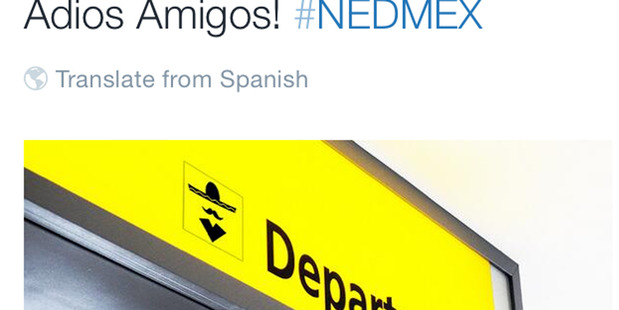 What was meant to be a joke has turned into a PR blunder for Dutch airline KLM after it angered Mexican soccer fans by taking to Twitter to celebrate the Netherlands' dramatic comeback victory in the World Cup.
Within minutes of the Netherlands' 2-1 victory over the Tri, KLM let loose on its Twitter feed a picture of an airport departures sign under the heading "Adios Amigos!" Next to the word "Departures" is the image of a man with a mustache wearing a sombrero.
Read more:
* Football: Netherlands steal victory with late goals
* Mexico blame ref for late penalty drama
* Robben admits diving...in first half
The post immediately went viral, with A-list Mexican actor Gael Garcia Bernal using not one but two expletives in a 140-character Tweet to tell his 2 million-plus followers that he'll never fly the carrier again.
"Planning your exit out of South American soon, slave traders," another angry twitter user said of the picture.
"Such a Dutch tweet - just the wrong side of funny vs arrogant," tweeted another with the hashtag #mexicogate.
Other reactions were more mitigated. "It isn't right but most films show Mexicans that way, why is saying it any worse," read one.
Amid the widespread protest online, the post was pulled a half-hour later without an explanation.
"It was meant to be a joke," KLM spokeswoman Lisette Ebeling Koning told The Associated Press, adding that the airline never intended to offend Mexicans, which it serves via a daily direct flight between Mexico City and Amsterdam. "But there was too much negative reaction."
KLM then issued a formal apology.
"In the best of sportsmanship, we offer our heartfelt apologies to those who have been offended by the comment," said Marnix Fruitema, director general of KLM in North America.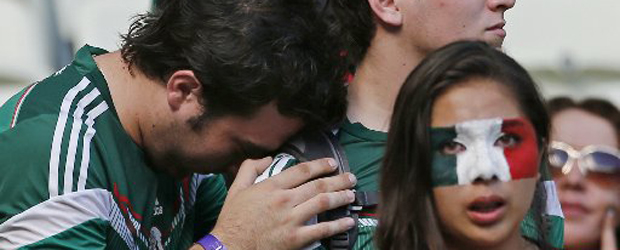 Mexican fans react to today's loss to the Netherlands. Photo / AP
For its part, Mexican national carrier AeroMexico is also getting in on the fun, broadcasting on Twitter its support for the country's soccer team under an arrivals sign.
"Thank you for this great championship," AeroMexico said. "You've made us proud and we're waiting for you at home."
Meanwhile, 45,000 people dressed in the national orange packed an Amsterdam square to watch the game and erupted with joy after the victory.
"It was an amazing game," said Iris, 22, sporting an orange T-shirt and face paint on the Museumplein square where the match was being shown on giant television screens.
"There was a really bad atmosphere at the start of the match, we were afraid, but it turned into a great party in the final minutes," she told AFP.
The huge crowd was morose in the first half after Mexico took the lead, but the beer-fuelled party picked up after the Netherlands finally scored.
- AP/AFP/AAP