Five aircraft on way and more ordered to attack militants sweeping across country.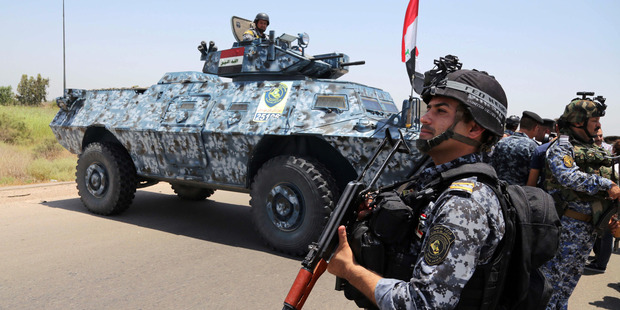 Iraq last night said its fight against Sunni rebels would be boosted by the arrival of fighter jets from Russia.
As the Iraqi Government launched its biggest push yet to wrest back ground lost to the Islamic State of Iraq and al-Sham (Isis), it said five second-hand Sukhoi attack aircraft would enter service within a few days, and that more were on their way.
The BBC reported the Iraqi Defence Ministry as saying the planes were SU-25, but a Russian expert was quoted by Lenta.ru news agency saying SU-30 had been sent.
They are believed to have been purchased by the Government in Baghdad in a deal reportedly worth up to US$500 million ($569.5 million).
Iraq needs the jets in the fight against the militants in the northwest.
The United States has been flying armed drones in Iraq which it says are protecting US personnel on the ground. About 300 US military advisers have been deployed to Iraq but US officials have said American troops are not directly involved in the fighting.
Yesterday, Iraqi troops backed by tanks and helicopter gunships began an offensive to retake the northern city of Tikrit.
There were conflicting reports as to how far the military advanced in its initial thrust toward Tikrit, the hometown of former dictator Saddam Hussein. Residents said militants were still in control of the city by nightfall, while Iraqi officials said troops had reached the outskirts.
What was clear, however, was the Government's desire to portray the campaign as a significant step forward after two weeks of demoralising defeats at the hands of insurgents led by the al-Qaeda breakaway Isis.
The militants' surge across much of northern and western Iraq has thrown the country into its deepest crisis since US troops withdrew in December 2011, and threatens to cleave the nation in three along sectarian and ethnic lines.
Iraq's large, US-trained and equipped military melted away in the face of the militant onslaught, sapping morale and public confidence in its ability to stem the tide, let alone claw back lost turf. If successful, the Tikrit operation could help restore a degree of faith in the security forces - as well as embattled Prime Minister Nouri al-Maliki, who is fighting to keep his job.
Yesterday's fighting began before dawn with helicopter gunships carrying out strikes on insurgents who were attacking troops at a university campus on Tikrit's northern outskirts, Iraqi military spokesman Lieutenant General Qassim al-Moussawi said.
Government forces established a bridgehead on the university's grounds after being airlifted in the previous day.
The military also carried out three airstrikes on the insurgent-held city of Mosul. Mosul is Iraq's second-largest city, and was the initial target of Isis' offensive in the country.
South of Baghdad, heavy clashes between security forces and Sunni insurgents in the town of Jurf al-Sakhar killed at least 21 troops and dozens of militants, police and hospital officials said. Jurf al-Sakhar, located 50km outside the capital, is part of a predominantly Sunni ribbon that runs just south of Baghdad.
Isis, which already has seized control of vast swathes in northern and eastern Syria, aims to create a state straddling Syria and Iraq governed by Islamic law. In Iraq, the group has formed an alliance of sorts with fellow Islamic militants as well as former members of Saddam's Baath party to fight al-Maliki's Shia-led Government.
The militants have tapped into deep-seated discontent among Iraq's Sunni community with Maliki, who has been widely accused of monopolising power and alienating Sunnis. The Prime Minister's failure to promote national reconciliation has been blamed for fuelling Sunni anger.
The US and other world powers have pressed Maliki to reach out to the country's Sunni and Kurdish minorities and have called for a more inclusive government that can address longstanding grievances.
Maliki is fighting to retain his post, which he has held since 2006, as many former allies drop support and Iraqis increasingly express doubts about his ability to unify the country.
The SU-25
• The SU-25 is a single-seat, twin-engine ground attack jet aircraft developed in the Soviet Union to provide close air support for the Soviet Ground Forces.
• Its maiden flight was in February 1975 and it went into series production in 1978.
• It is unclear who in Iraq will fly them. Executed dictator Saddam Hussein's air force had SU-25s but those pilots are unlikely to have had time in the aircraft in more than a decade.