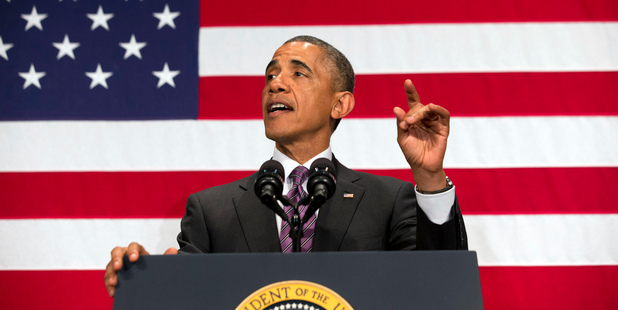 A year after unveiling sweeping plans to tackle climate change, US President Barack Obama is highlighting efforts by his administration toward reducing greenhouse gas emissions, even though some of the most ambitious steps Obama has pledged remain in limbo.
Wiping sweat from his brow in the summertime sun, Obama last June unveiled a second-term drive to bypass Congress while putting the United States on the track to cut heat-trapping emissions 17 percent by 2020, hoping US leadership would spur other countries to act. "I'm convinced this is a fight that America must lead," Obama said at Georgetown University.
On Wednesday, Obama is promoting what he's done to put that plan into action during a speech to the League of Conservation Voters, which is spending millions this year attacking candidates who question climate change.
Read more:
• Obama: Climate change deniers ignoring science
For a president whose priorities have largely fallen victim to congressional gridlock, climate change marks a rare bright spot where Obama's own powers have allowed him to move forward in substantial ways.
"The US has become a leader in climate change mitigation and preparedness, and our work is just the beginning," said Dan Utech, Obama's top climate and energy adviser.
The Center for Climate and Energy Solutions, a nonpartisan group formerly associated with the Pew Center, said this week that Obama has made at least some progress on most of the 75 goals he laid out last June. Those steps will require follow-through, but if the administration keeps up the pace it achieved in the past year, the US could meet its 17 percent goal, the center said.
The centrepiece of Obama's plan, carbon limits on existing power plants, is on track after the Environmental Protection Agency met its deadline to issue a draft, although the timeline for states to comply has been delayed in some cases. Still, the limits have drawn major opposition from Republicans and some Democrats and will face legal challenges that could threaten their durability.
"The president has no more elections to win, yet he allows the narrow interests of his most extreme political allies to dictate an agenda that puts jobs and opportunity out of reach," said House Speaker John Boehner, R-Ohio.
Read more:
• Obama acts to create world's largest ocean preserve
Obama has also started the clock on carbon limits for new power plants, although the low cost of cleaner-burning natural gas means few new coal-fired plants will be built in the US anyway.
Obama's administration has approved 10 new renewable energy projects on public lands, but is less than halfway toward its goal of increasing solar, wind and geothermal output by 8,100 megawatts. The administration has also proposed nine new standards for energy efficiency and finalized eight others, seeking to curb emissions from appliances and other equipment.
Yet on the international front, momentum has been elusive. Ahead of global climate talks next year in Paris, there are fresh signs that countries like Australia are prodding Canada and others to resist global moves to curb carbon. That could dissuade even bigger polluters, like China, from acting.
"When it comes to what are the actions they're going to take at home to cut carbon, I think they're really well on their way," said Heather Zichal, who spearheaded Obama's climate plan as his former environmental adviser. "The question is, What degree of success will the administration have in bringing other countries to the table?"
- AP