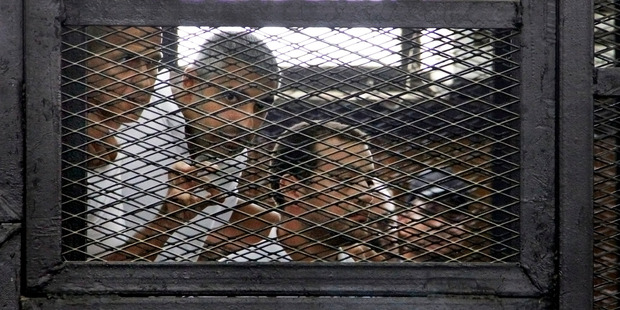 New Zealand has added its voice to international condemnation of Egypt's imprisonment of three Al Jazeera journalists.
World leaders have criticised Egypt over the jailing of Australian Peter Greste, Canadian-Egyptian Mohammed Fahmy and Egyptian Baher Mohammed and Australia is already planning its next appeal to Egypt's new President Abdel Fattah al-Sisi.
Foreign Minister Murray McCully this afternoon expressed "deep concern" at the prison sentences imposed.
Mr Greste and Mr Fahmy were sentenced to seven years and Mr Mohammed to ten years imprisonment for charges of broadcasting false news and assisting the outlawed Muslim Brotherhood group.
"Press freedom and transparent judicial processes are fundamental to any democracy," Mr McCully said.
"I have seen nothing to suggest that these three journalists were doing anything other than their job and the seven year prison sentences imposed appear to be aimed at silencing critics rather than serving justice.
"The Egyptian authorities need to understand that the international community is watching closely and will not accept the current verdicts.
"The Egyptian authorities should review this case as a matter of urgency," Mr McCully said.
Mr McCully's comments underscore a motion from Labour MP Clare Curran passed unanimously in Parliament this afternoon also condemning the prison sentences and calling for the journalists' release.
World reaction
UN human rights chief Navi Pillay says it's clear the real target in Egypt is freedom of expression and the jailing of the journalists is alarming.
Australia is already planning its next appeal to Egypt's new President Abdel Fattah al-Sisi, as the Greens call for the consideration of sanctions.
"President al-Sisi must now free them or alternatively we need to have all diplomatic options, including sanctions, on the table," Greens Leader Christine Milne said.
Foreign Minister Julie Bishop says the government is dismayed by the seven-year sentence handed to Greste for spreading false news and aiding the blacklisted Muslim Brotherhood after the overthrow of Islamist president Mohamed Morsi.
As the journalist's family weighs an appeal, Ms Bishop says Australia will seek to make another approach to the new president.
It's hoped he might intervene before the appeals process can play out and commute their sentences, as the US has demanded.
Abbott "shocked, dismayed"
Prime Minister Tony Abbott says he is bewildered by the court's decision, and his government would seek to ensure his release "as quickly as possible".
"We're obviously shocked, dismayed, really bewildered by the decision of the court in Egypt," Mr Abbott told reporters in Canberra.
The Abbott government sought to summon Egypt's ambassador to a meeting at the Department of Foreign Affairs on Trade but has learned he is actually in Cairo. His deputy will be called in instead.
Mr Abbott said his government would talk "calmly, patiently and reasonably" with the Egyptian government. "What we don't want to do is engage in unhelpful megaphone diplomacy because that won't do Peter Greste any good," he said.
While Australia respected the legitimacy of the new Egyptian government and Egyptian justice system, and its crackdown on extremists, Mr Abbott said it was important there be "due process".
However, he said he did not want to be critical of the government. "The Egyptian court system does work at arms length from the government, but I do understand that once the court system has done its work then there are options for presidential acts, presidential clemency, presidential pardons and so on," he said.
The Egyptian foreign ministry is already defending the action of the court, saying the country's judiciary is independent and due process was followed in the case.
Watch: Outrage after Egypt court convicts journalists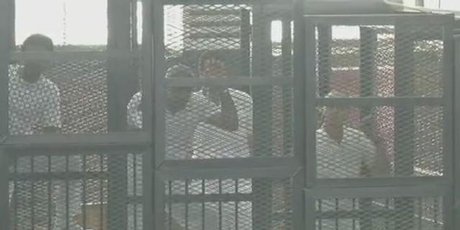 Judgment 'a slap in the face'
Greste's Brisbane-based parents have been left in despair after learning their son's fate on Monday night.
They'd earlier said anything short of an acquittal was unthinkable. "Seven years ... my God," his mother Lois gasped.
"That's crazy, that's crazy, that's absolutely crazy," his visibly distressed father Juris said.
Today Juris told reporters in the family's hometown of Brisbane that he was in a state of shock and was struggling to think straight.
"We're not usually a family of superlatives, but I have to say this morning my vocabulary fails to convey just how shattered we are," Juris Greste told a news conference accompanied by his wife Lois Greste. "You can never prepare yourself for something as painful as this."
The joJuris Greste described the judgment as "a slap in the face and a kick in the groin to Australia as well as all fair-minded people around the world."
"Journalism is not a crime, or you should all be behind bars- it's a simple as that," he told reporters. "Our son Peter is an award-winning journalist, he is not a criminal."
Lois Greste said there has been no decision yet on an appeal, but the family was considering all options. The family did not know if their son might be able to be transferred to an Australian prison to serve his sentence.
Peter Greste's brothers, Andrew and Mike Greste, were in Cairo to hear the decision, but have not yet been allowed to visit their brother, she said.
Andrew has told the ABC he wasn't able to talk to his brother and the judge offered no explanation for the verdicts. "Just devastated. I'm gutted. It's just unbelievable really," he said.
He said his family would now be exploring all options to free Peter. "He's not going to give up, and we won't give up as a family."
- AP, AAP