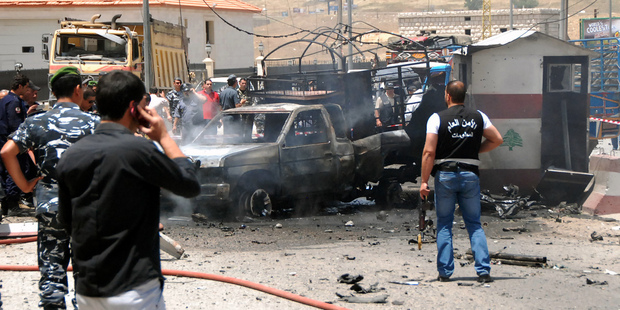 A suicide car bombing in a southern Beirut suburb overnight left 12 people injured, the official Lebanese news agency says.
The explosion happened around midnight near an army checkpoint and a cafe where football fans were watching a World Cup match.
"Twelve people were injured in a suicide attack at an army checkpoint," the National Information Agency (ANI) reported.
"It was a car bomb and there is a strong possibility that it was a suicide attack," a security source told AFP.
There was no immediate word on any victims of the blast, but ambulances could be seen transporting some of the wounded.
An AFP photographer saw several cars on fire at the scene and other damage. Firefighters were tackling the blaze.
A witness told Lebanese television that he saw a white Mercedes car travelling fast on the wrong side of the road before exploding.
Read more:
• Kerry gives dire warning to Iraq leaders
"Terrorism seeks to undermine our unity," Hezbollah deputy Ali Ammar said. "The Sunni extremists, after their defeat in Syria, are trying to open new fronts and what we are seeing in Iraq is not too much different from what's happening in our country, but here the circumstances don't allow them to operate in the same fashion," he added.
It was the second explosion in a week and comes amid mounting regional tensions over the dramatic events in nearby Iraq, where the al-Qaeda splinter group Islamic State of Iraq and the Levant has seized large chunks of territory in the country's north and west.
On Friday, a suicide bomber detonated his explosives-laden car near a police checkpoint in eastern Lebanon, killing a policeman and wounding several other people.
The bombings sparked fears of renewed violence in a country which has been buffeted by the conflict in neighboring Syria.
Syria's civil war has spilled into neighboring Lebanon on multiple occasions and inflamed sectarian tensions. A series of car bombs have struck Shiite areas across Lebanon, killing dozens of people.
The last explosion to hit Lebanon occurred on March 29, when a suicide bomber in an explosives-laden car targeted a Lebanese army checkpoint near the Syrian border, killing three people.
Hard-line Sunni groups have claimed responsibility for the attacks against Shiites, saying they are meant to punish the Lebanese Hezbollah movement for fighting alongside Syrian President Bashar Assad's troops.
After Friday's bombing, troops began enforcing strict measures at all entrances to Beirut's southern suburbs, a Hezbollah stronghold, setting up checkpoints and searching cars.
Security forces also deployed at all the entrances to Beirut, preventing trucks from entering the Lebanese capital for fear of more bombings.
The Lebanese are deeply divided over the civil war in Syria, with Sunnis largely backing the insurgency and Shiites siding with Assad.
- AP, AFP