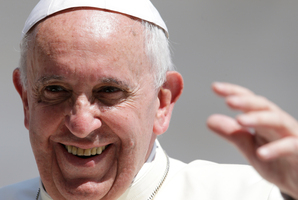 The Pope has attacked Italy's most dangerous and powerful Mafia-style crime syndicate - declaring that all Mafiosi "are excommunicated".
During a visit to Calabria in southern Italy - the powerbase of the notorious 'Ndrangheta - Pope Francis said the crime group was an example of "the adoration of evil".
The impromptu comments, made at a mass in front of a crowd of thousands yesterday, represent the strongest attack on organised crime since Pope John Paul lambasted the Sicilian Mafia in 1993.
"Those who in their lives follow this path of evil, as Mafiosi do, are not in communion with God," said Pope Francis. "They are excommunicated."
He added: 'This evil must be fought against, it must be pushed aside. We must say no to it.
"Our children are asking for it, our young people are asking for it. They are in need of hope and faith can help respond to this need."
He said the Mafia-style 'Ndrangheta represented the 'adoration of evil and contempt of the common good' and promised the Church would exert its full force in efforts to combat organised crime.
Investigators have found 'Ndrangheta particularly difficult to penetrate and it is now thought to have influence in more than 30 countries, with an estimated annual turnover of £42?billion.
The Pope was in Calabria partly to fulfil his promise to meet the family of a toddler killed during drug turf wars in the area in January.
The 77-year-old met the imprisoned father of Nicola 'Coco' Campolongo, who was just three when his charred body was found in a burnt-out car, along with the corpses of his grandfather Salvatore Iannicelli and Ibtissa Touss, a Moroccan woman.
Both Coco's parents and his grandfather were part of a 'Ndrangheta drugs-trafficking clan - and Coco was in the care of Iannicelli after both his parents were jailed.
Pope Francis met separately with Coco's father and two grandmothers in the courtyard of a prison in the town of Castrovillari.
He embraced the father, who asked him to pray for the boy's mother, who is said to be under house arrest.
A spokesman for the Vatican, the Rev Ciro Benedettini, said Pope Francis told the father: "May children never again have to suffer in this way."
Benedettini added: "The two grandmothers were weeping like fountains."
- Mail On Sunday