Americans reduce employee levels at its biggest overseas diplomatic post in face of rising levels of violence as Isis militants capture another major town in the north of the country, forcing hundreds to flee into desert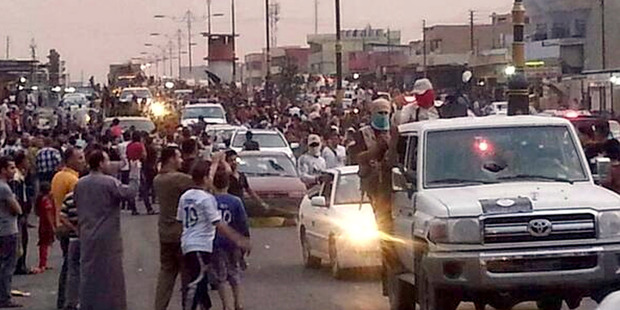 Security at the United States Embassy in Baghdad has been bolstered and some staff members are being moved out of Iraq's capital city as it is threatened by the advance of the al-Qaeda inspired insurgency.
State Department spokeswoman Jen Psaki said much of the US embassy staff will stay in place even as parts of the country experience instability and violence.
The embassy is within Baghdad's Green Zone. It has about 5000 personnel, making it the largest US diplomatic post in the world.
"Overall, a substantial majority of the US Embassy presence in Iraq will remain in place and the embassy will be fully equipped to carry out its national security mission," she said.
Australia followed suit, announcing it was withdrawing a number of officials from Baghdad, with only an essential core of embassy staff to remain. The Washington Post said this is the first time since the US-led invasion in 2003 that the US embassy has decreased its staffing levels in response to a threat posed by violence.
Some embassy staff members have been temporarily moved elsewhere to more stable places at consulates in Basra in the Shia-dominated south of Iraq and Erbil in the Kurdish semi-autonomous region in northeastern Iraq and to Jordan, she said.
The development came as it was reported that militants of the Islamic State of Iraq and the Levant, or Isis, had captured another major town in northern Iraq.The Post said the fall of the religiously mixed town of Tal Afar had forced hundreds of families to flee into the surrounding desert. It has a population of some 200,000, mostly ethnic Shia and Sunni Turkomen.
The State Department issued a travel warning for Iraq that cautioned US citizens to avoid "all but essential travel to Iraq. Travel within Iraq remains dangerous given the security situation".
Pentagon spokesman Rear Admiral John Kirby said a small number of military personnel are helping to keep State Department facilities safe in Baghdad. He said embassy personnel are being moved by commercial, charter and State Department aircraft.
But, he says, the US military has "airlift assets at the ready" should the State Department request them. A military official said about 150 Marines have been sent to help with security and are at the embassy.
Isis has captured large swathes of territory north of Baghdad. Their advance on the Iraqi capital was prompting tighter security in the city of seven million people. The State Department acted as the Iraqi Government sought to bolster its defences in Baghdad. Despite the added security, a string of explosions killed at least 15 people in the city, police and hospital officials said.
Iraqi officers said their forces were starting to repel the militants, and that soldiers had recaptured two towns north of Baghdad.
As troops began to drive back the militants, they found the burned bodies of 12 policemen in the town of Ishaqi in Salaheddin province, a police colonel and a doctor said.
Psaki said an Isis claim that it had killed 1700 Iraqi troops in Tikrit could not be confirmed by the US. Tikrit is the hometown of ousted Iraqi leader Saddam Hussein.
White House spokesman Josh Earnest said US President Barack Obama was briefed on the situation by National Security Adviser Susan Rice.
Secretary of State John Kerry made calls to foreign ministers in Jordan, the United Arab Emirates, Saudi Arabia and Qatar to discuss the threat.
Earlier yesterday, Republican Senator Lindsey Graham said that Iraqi Prime Minister Nouri al-Maliki cannot keep his country together, and a US alliance with Iran might be needed to do so.
Graham, a member of the Senate Armed Services Committee, said a US partnership with longtime foe Iran makes him uncomfortable but likened it to the US working with Soviet leader Josef Stalin in World War II against Adolf Hitler. He says the United States has to do what it can to keep Baghdad from falling to insurgents.
Iran says it has no interest in a destabilised Iraq as its neighbour. Reports suggest it already has a small number of its Revolutionary Guards in Iraq as military advisers.
Defence Secretary Chuck Hagel has moved the USS George H.W. Bush aircraft carrier to the Gulf as Obama considers possible military options for Iraq - although he has ruled out putting US troops on the ground.
- AP, AFP