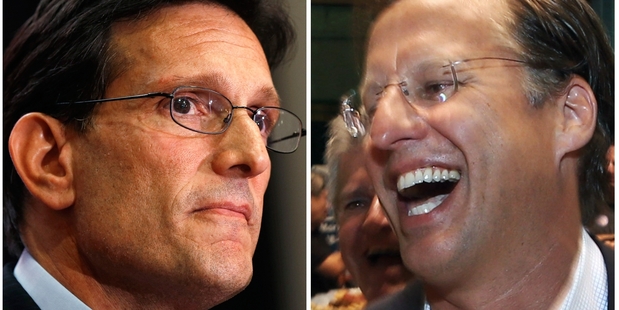 The Tea Party won a stunning and unexpected victory over the Republican establishment when a little-known conservative economics professor unseated the party's second-most-senior leader in Congress.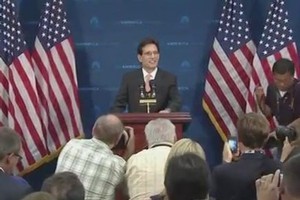 Eric Cantor, the House Majority Leader and one of the most powerful Republicans in the United States, lost his Virginia primary election to David Brat, 52, a right-wing academic with few campaign funds.
The result is an extraordinary upset in Republican politics and a major blow to the party's elite, which had hoped to use this year's primary elections across the country to face down the Tea Party activists.
The moderates had appeared so far this year to have the upper hand in the party's civil war until the shocking result in Cantor's Virginia district.
Never before has the Tea Party succeeded in taking the scalp of a figure as prominent as Cantor, 51, who in the last stages of the campaign still had a war chest of US$2 million ($2.3 million) compared with his opponent's US$40,000.
Cantor had raised US$5.4 million for the campaign overall.
The New York Times said that since the beginning of last year, Cantor's campaign had spent about US$168,637 at steakhouses compared with the US$200,000 his challenger spent on his entire campaign.
Cantor decided today to surrender his No. 2 leadership post in the U.S. House of Representatives, after the crushing defeat.
House Republican colleagues began jockeying for position in the coming leadership shakeup.
Rep. Kevin McCarthy, who serves as the party whip and was No. 3 in the House leadership, informed fellow Republicans he intended to run to succeed Cantor, officials said. Rep. Pete Sessions, a Texan, also signaled an interest.
Since John Boehner became Speaker in 2009, Cantor has been seen as both a likely eventual successor and at times a potential rival. Boehner said yesterday he and Cantor had "been through a lot together", making "tough choices that come with governing".
Former Democratic House Speaker Thomas Foley of Washington state and Senate Democratic leader Tom Daschle of South Dakota both lost their seats at the polls in the past two decades, but they fell to Republicans, not to primary challengers.
Although Cantor is a conservative member of the party leadership, he has in recent weeks suggested he would be open to working with President Barack Obama to achieve modest reforms to the immigration system. Brat accused him of supporting an "amnesty" for illegal immigrants, whipping conservatives into a fury against Cantor.
Conservatives will now be emboldened in their opposition to legislation to create a path to citizenship for immigrants living in the country illegally, and party leaders who are more sympathetic to such legislation will be less willing to try.
Although polls had consistently shown Cantor with a comfortable lead, there were signs of trouble on the campaign trail. Last month conservatives booed him at a party meeting in his own district and defeated one of his allies as local party chairman. The New York Times said many voters perceived Cantor as ignoring district concerns as he sought to raise his national profile. It said he kept a home in suburban Richmond and sent his children to school there, but spent much of his time travelling across the country to raise money and campaign for Republican candidates.
Cantor enjoyed the financial support of major Washington political groups, although Brat, who teaches at Randolph-Macon College, was endorsed by leading Tea Party figures like radio host Laura Ingraham. Cantor appeared to have lost by 55.5 per cent to 44.5 per cent meaning Brat will face Jack Trammell, a Democrat who is also a professor at Randolph-Macon, in the heavily Republican district.
The news from Richmond, the capital of Virginia, is likely to be met with mixed feelings by the White House. On the one hand, conservative victories in primary elections tend to push the Republican Party to the right, making its candidates more likely to lose to Democrats in the general election. In 2010 and 2012, Tea Party candidates unseated moderate Republicans only to be defeated by Democrats and allow Obama's allies to cling to control of the Senate. But the Tea Party victory is also fuelled by the right's implacable opposition to Obama and its success will deter Republican moderates from compromising with the President for fear of being defeated like Cantor.
The result is likely to be continued gridlock, with neither White House nor the Republican-controlled House of Representatives able to pass any meaningful legislation. "Eric Cantor's loss tonight is an apocalyptic moment for the GOP establishment," said ForAmerica chairman Brent Bozell, a conservative leader who advises several Tea Party groups. "The grassroots is in revolt and marching."
- AP