The thousands of locks that cling like barnacles to the Pont des Arts in Paris have become a symbol of danger, rather than love, after a chunk of fencing fell off under their weight.
The fencing yesterday tumbled on the pedestrian bridge, which crosses the Seine.
Thousands of couples have latched padlocks to the bridge and thrown their keys into the river as symbols of lasting love, resulting in what some decry as an eyesore.
The locks are periodically removed by the city, but spring up ever faster. Deputy Mayor Bruno Julliard said the city was already soliciting suggestions on what to do with the locks when the fencing collapsed. Officials hope to persuade couples to show their affection in less disruptive ways.
No one was hurt when the fencing came down. But Julliard said there are real safety concerns, as the Seine is heavily travelled by tour boats and barges.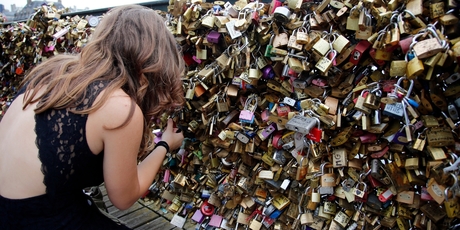 - AP