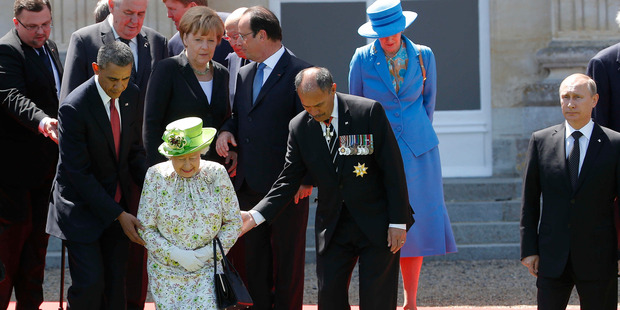 Nineteen world leaders, more than 1000 veterans and many others gathered on Normandy beaches to honour the troops and civilians who fell in mighty battles 70 years ago that helped bring Europe peace and unity.
Not many of the 150,000 Allied soldiers who slogged on to storm-torn beaches or parachuted in remain alive to pass on the legacy of that "longest day."
Some survivors stood, somber-faced and proud, alongside dignitaries as they paid tribute to history's biggest amphibious invasion.
French president Francois Hollande used the gathering to reconcile Russia with the West and Ukraine. Russian President Vladimir Putin met Ukranian President-elect Petro Poroshenko and US president Barack Obama on the sidelines of the event.
The leaders and veterans watched an elaborate interpretive dance on the beach that traced the horrors of World War II and Europe's painful road to healing afterward. Wartime film clips and evocative music accompanied the performance, which ended with fighter planes releasing red, white and blue smoke as gas flares shot multicoloured flames above the waves.
Meanwhile, social media users are tearing into Barack Obama after the US president was seen chewing gum during solemn ceremonies to mark the 70th anniversary of the D-Day landings. People took to Twitter to denounce Obama's "shameful" and "vulgar" chewing, with one user attacking him as a "lout".