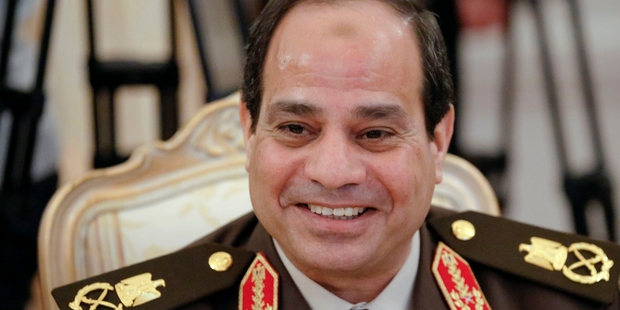 Egypt's President-elect, the former army chief Abdel-fattah al-Sisi, told Egyptians it was now "time to work" to rebuild the economy after he was officially declared the landslide winner of last week's election, restoring a career military man to the country's top office.
Thousands celebrated in public squares around the country after the Election Commission officially announced Sisi's victory with nearly 97 per cent of the vote in an election turnout of just over 47 per cent.
Sisi brings Egypt into a new phase in its tumultuous drama since the 2011 pro-democracy uprising that ousted autocrat Hosni Mubarak after 29 years in power. The following year, Islamist Mohammed Morsi became the country's first democratically elected President, only to face massive protests by millions against him and his Muslim Brotherhood.
Sisi, then the army chief, ousted Morsi last northern summer and led a heavy crackdown on the Brotherhood and other Islamists in which hundreds were killed and thousands jailed. Sisi now restores a chain of five Egyptian presidents of military background since the 1952 coup against the monarchy - with Morsi the sole exception, not counting two interim presidents.
"I am happy the army is back to power, and that he got rid of the Muslim Brotherhood," cheered one of his female supporters.
But to critics Sisi brings fears of a return to Mubarak's autocratic state. Already, there have been sharp limits put on the right to protest, secular dissenters have been arrested and reports of police abuses have risen.