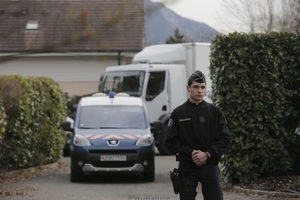 A former French Legionnaire, questioned during the course of the investigation into the 2012 murder of four people in the French Alps, has committed suicide, police say.
Annecy prosecutor Eric Maillaud told AFP, confirming information reported in the French media, that the former soldier had "left a note of six or seven pages in which he said he was disturbed by the questioning. He felt accused".
"It does not make this the main or sole reason for his action," added Maillaud.
Read more:
* Former policeman held in connection with Alps killings
The unnamed former Legionnaire and paratrooper, who was 50-years-old, was found dead at his home in Ugine on Tuesday afternoon, local time, apparently shot dead.
An investigation into his death has been launched.
Saad al-Hilli, a 50-year-old Briton of Iraqi origin, was gunned down along with his 47-year-old wife Iqbal and her 74-year-old mother in a woodland car park in the hills above Lake Annecy in the French Alps on September 5, 2012.
Watch more here:
* French Alps shooting
A French cyclist, Sylvain Mollier, was killed after apparently stumbling upon the scene.
The unnamed former soldier had been questioned "for two hours in April 2013", in regard to the case of Mollier.
He was not considered a suspect in the case, said Maillaud.
The Hillis' young daughters, Zainab and Zeena, survived the attack.
- AFP