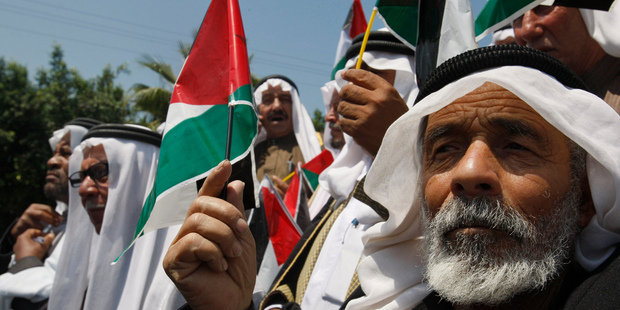 The West is prepared to work with a new Palestinian government, US and European Union officials said today, despite Israeli concerns it gives power and influence to the radical Hamas movement.
Israel maintains Hamas is a terrorist group, and has angrily refused to work with a Palestinian unity government that would include Hamas members.
Read more:
* Hamas and PLO driven to reconcile, say experts
* Abbas 'chooses Hamas over peace'
Palestinian President Mahmoud Abbas swore in a new government on Monday, local time, made up of technocrats backed by Hamas and the rival Fatah political faction. It formally ended a crippling seven-year split with his Islamic militant Hamas rivals and drew Israeli threats of retaliation.
Abbas praised the 17-member unity government as a milestone.
"This black page in our history has been turned forever and will never come back," he said, referring to the Palestinian split that broke open with the Hamas takeover of the Gaza Strip in 2007. For seven years, the rivals ran separate governments, with Hamas in Gaza and Abbas ruling autonomous areas of the West Bank.
Netanyahu calls for boycott
Israeli Prime Minister Benjamin Netanyahu said the new government should be shunned because it leans on support from Hamas, a group labeled as terrorist by the West.
Abbas "said yes to terrorism and no to peace," Netanyahu said after a meeting with his Security Cabinet.
Abbas said his new Cabinet opposes violence and recognises Israel, complying with longstanding conditions the West has set for dealing with Palestinian governments. Hamas has rejected such conditions, but Abbas said he is in charge of the government program.
Hours after the swearing in, Secretary of State John Kerry called Netanyahu to relay US willingness to work with the new leaders.
Separately, in an Associated Press interview, the EU's top envoy to the US said Europe was prepared to work with a government backed by Hamas.
"We never said we would not," Ambassador Joao Vale de Almeida said. "It's a question of substance rather than the question of composition of the government."
Still, Vale de Almeida said Europe was insisting that the new Palestinian government recognise the right for Israel to exist and the need for a negotiated peace agreement with the Jewish state.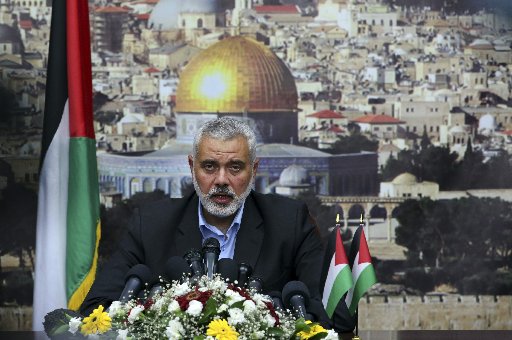 Ismail Haniyeh, the outgoing Hamas prime minister in Gaza. Photo / AP
Israel broke off nearly nine months of peace negotiations in April after Abbas endorsed the tentative unity government to end seven years of separate leadership in the west Bank and Gaza Strip.
"We are in favor of Palestinian recognition," Vale de Almeida said. "We think it's an important element in the process to bringing a long-term solution - but not at any price. It has to be based on respect for a certain number of values."
He said the EU would watch to see how the new unity government moved forward - a position echoed by State Department spokeswoman Jen Psaki.
Psaki said the US was prepared to continue sending US foreign assistance to the Palestinian Authority and what she described as the "interim technocratic government."
The decision would almost certainly draw criticism from Israel and its supporters in Congress and elsewhere.
Rep Kay Granger, a Republican who chairs a House Appropriations subcommittee on US foreign operations, said Palestinian aid was now "off the table."
The panel's top Democrat, Rep Nita Lowey, was almost as strong, saying the deal puts funding "in jeopardy."
Sen Patrick Leahy, a Democrat, the Senate's top appropriator for overseas assistance, didn't immediately comment.
- AP