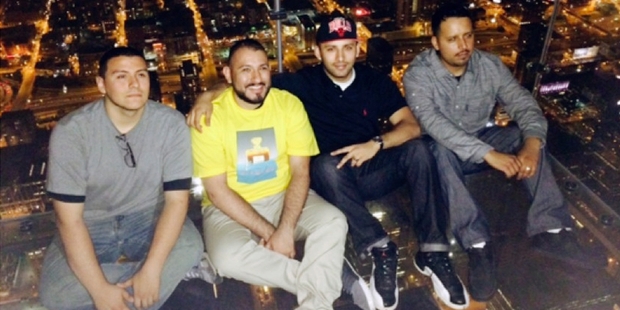 It is what everyone who stands out on a glass floor at the top of a skyscraper fears the most.
And this week it almost came to pass when a family visiting the Skydesk Ledge at the Willis Tower in Chicago suffered the scare of their lives when the glass floor of the tourist attraction 412m up cracked as they sat down for a picture.
The astonishing incident caused staff to hurriedly evacuate them as the distinct sound of shattering glass could be heard creeping across the glass enclosure that juts out from the 103rd floor of the building.
"I had my palms on the floor and I could feel it cracking," said Alejandro Garibay, who was posing for pictures at the time with his brother and two cousins. "Honestly, I was in shock, in disbelief. I was scared."
"One of the craziest feelings I had in my life," added his cousin, Antonio Saldana. "I thought I was going to fall through."
Jumping off the platform, the Garibays quickly alerted the staff.
"I walked them over so they could see and they were totally shocked and asked us to step away and then proceeded to start calling staff. When we pulled our phones to start recording and take pictures they asked us to leave right away," he said.
A spokesman for Skydeck said the visitors were never in any danger as the crack occurred only in the protective coating.
"This coating does not affect the structural integrity of The Ledge in any way. Occasionally, the coating will crack, as it is designed to in order to protect the surface of the glass."