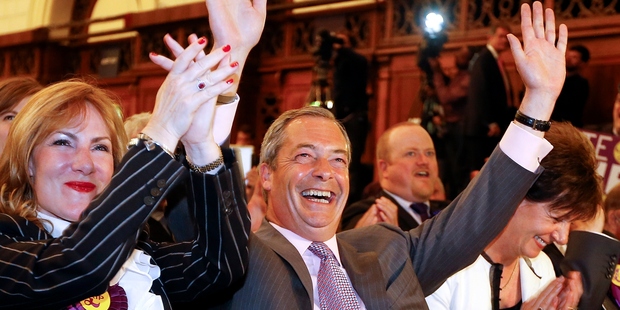 The victory of the eurosceptic UK Independence Party (UKIP) in "historic" European elections in Britain has added new heat to the debate about its EU membership.
UKIP, a party without a single seat in Britain's national parliament, became the first political grouping other than Prime Minister David Cameron's Conservatives and the opposition Labour Party to win a nationwide election for more than a century.
Cameron said the outcome showed voters' "deep disillusionment" with the European Union and proved he was right to pledge to put Britain's membership to a referendum.
UKIP - which wants Britain to pull out of the EU - won 27.5 per cent of the vote and 24 seats, leaving the main opposition Labour second on 25.4 per cent with 20 seats.
Cameron's Conservatives were pushed into third on just short of 24 per cent with 19 seats.
It was a disastrous night for the pro-EU Liberal Democrats, the national coalition partners who were reduced to a single seat, two fewer than the Green Party.
With only the three seats in Northern Ireland still to be declared, UKIP were assured of what leader Nigel Farage had already called on Sunday "the most extraordinary result in British politics for 100 years".
UKIP even picked up a European seat in Scotland, where it has no tradition of support, which Farage said showed it was now a genuinely national force.
"We're going to get a good number of eurosceptics elected to the European Parliament," Farage said.
"It's going to make a very big difference in the domestic politics.
"Up until now, European integration ... always seemed to be inevitable and I think that inevitability will end with this result.
"The people's army of UKIP have spoken tonight. I promise you this: you haven't heard the last of us," he said.
UKIP will now try to capitalise on its success in the European vote and a strong showing in local council elections last week by targeting a first Westminster seat in a by-election in Newark on June 5.
While UKIP benefited from the system of proportional representation used in the European vote, Britain's first-past-the-post system for general elections counts against it.
Cameron said the outcome showed the importance of his promise to re-negotiate the terms of Britain's EU membership and then put the deal to an in-out referendum if he wins the general election in May 2015.
"People are deeply disillusioned with the European Union," the prime minister told BBC radio.
- AFP