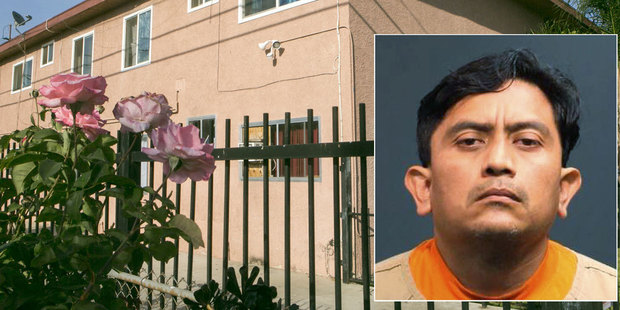 A California man has been charged with kidnapping and sexually assaulting his ex-girlfriend's daughter for a decade, as the alleged victim voiced relief at being free.
Isidro Medrano Garcia, 42, was indicted a day after police announced that the woman, now aged 25, had come forward with a child fathered by Garcia, who allegedly forced her to marry him.
He faces up to 19 years in jail if convicted.
The alleged victim, the Mexican daughter of Garcia's then live-in girlfriend in an LA suburb, told of her relief for the first time on Thursday.
"I'm so happy and God-blessed to be with my family" she told ABC7 television news, in broken English.
"That's what I want all the time."
Garcia allegedly groomed her while still living with her mother, and then kidnapped her after a fight with his girlfriend.
"Between August 2004 and April 2014, Garcia is accused of controlling (her) by telling her that her family did not want her and was not looking for her," said the Orange County District Attorney's office.
"On two occasions, she tried to escape. He caught her, he beat her for her efforts,"police spokesman Anthony Bertagna told reporters.
The case started in February 2004 when Garcia met the victim while living with her mother.
Garcia is accused of taking the girl after getting into a fight with the mother.
In 2010, Garcia allegedly got her pregnant.
Her path to release began this April, when she contacted her sister on Facebook on her birthday, and then eventually went to police. Details that have emerged suggest that, while not physically held captive, she was effectively kept from fleeing by sexual and emotional abuse.
She could also have developed so-called Stockholm Syndrome, in which kidnap victims come to relate strongly with their captors.
Garcia is due to arraigned on June 9.
- AFP