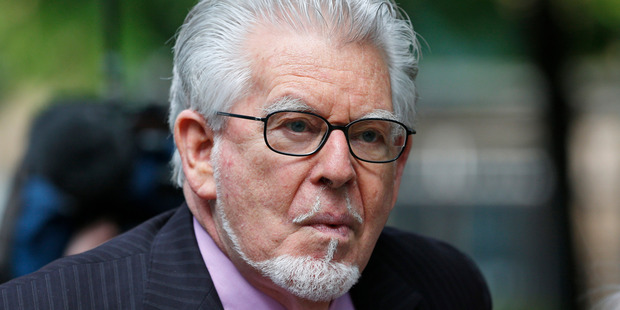 An Australian make-up artist has dramatically stared down Rolf Harris in a London court after alleging the "dirty old man" groped her more 20 times in one day in the mid-1980s.
As she walked from the witness stand to the court door after giving her evidence the woman looked unwaveringly at Harris sitting in the glass-walled dock.
When she passed the 84-year-old entertainer, who'd been listening with the aid of a hearing loop, she turned up her nose and made a humph sound of disgust.
Subsequently the court's door slammed shut.
The woman was employed by Channel 7 in 1986 to do Harris's make-up before he filmed a promotion for a television show.
The then 24-year-old, wearing baggy cut-off denim shorts and a T-shirt, worked on the star in a small make-up room just two metres square.
The alleged victim, now in her early 50s, told Southwark Crown Court on Wednesday that Harris first put his hand on her leg just above the knee and slid it under her shorts to her hip.
The make-up artist didn't say anything because she was in shock and Harris was "fairly fast".
The witness on Wednesday said her first thought was: "Oh my God I can't believe he works with children."
The make-up artist, who can't be named for legal reasons, said Harris touched her again when she was taking him to the studio.
The artist and singer put both hands up both of her legs.
Read more
• Rolf Harris witness describes alleged pub incident
• Harris 'barked like dog before groping me', woman claims
• Harris' holiday hugs with 13-year-old 'creepy'
He openly discussed her legs with the middle-aged male director "as if I wasn't there", the witness said.
Harris allegedly touched her "more than two dozen times" throughout the course of the day's filming.
The witness on Wednesday wryly noted that it was her job to constantly re-work the star's make-up, which was referred to as "touching him up".
She told the crew on set that she was being groped and at the end of the day complained to her supervisor that she was upset and annoyed.
"The dirty old man groped me all day - I'm really pissed off," she told her.
Afterwards the 24-year-old told her parents and friends.
She explained to one mate in particular that Harris was "obsessed" with her legs and couldn't keep his hands off her all day.
"Harris was called The Octopus, I found out at the end of the day," she told him, adding "he's all hands".
Defence lawyer Sonia Woodley QC on Wednesday suggested the harassment didn't happen to which the witness replied: "It did."
Another Australian witness, Tony Porter, told the court he saw Harris grope another make-up artist in the mid-1980s.
The actor worked alongside Harris on his variety show during a three-week period.
On one occasion, Mr Porter recalled on Wednesday, the star was having his make-up applied by a slight woman in her late 20s or early 30s.
"As she moved in front of him she leaned forward and at that moment both his arms shot up and he went to tickle her up," the witness said.
"He went straight for her breasts."
Watch: Rolf Harris in court over 'sex assaults'

Mr Porter said there was brief contact and Harris made a "lascivious" noise.
The make-up artist jumped back, clearly not welcoming the attention, he said.
The witness added he didn't say anything at the time "and I take no pride in the fact I let it go".
Mr Porter also told the jury Harris gently reprimanded him during shooting one day when he was warming up the live studio audience with a joke.
He said the UK-based celebrity took him aside and said: "I do the funny stuff OK."
Harris is charged with indecently assaulting four girls in the UK between 1968 and 1986. He denies all 12 counts.
The trial continues.
- AAP