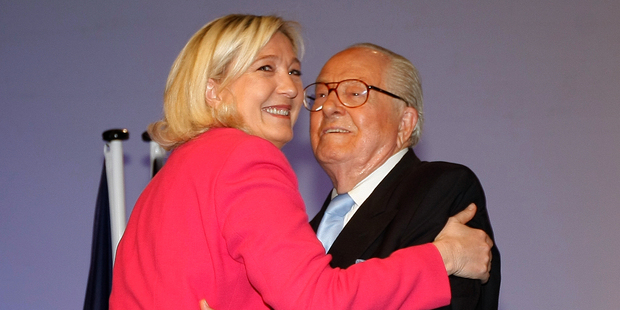 Veteran French far-right leader Jean-Marie Le Pen said his contention that the ebola virus could address Europe's immigration problem was purely an "observation".
Le Pen, 85, was speaking a day after he was overheard by journalists claiming that it was never too late to fight immigration and that "Monseigneur Ebola could take care of it in three months."
The quote was widely picked up by French media and embarrassed Marine Le Pen, the current head of the far-right National Front (FN), who has made it a priority to shake off her father's longtime reputation for racism and offensive verbal flourishes.
The older Le Pen handed the party's reins to his daughter in 2010 and is running as a candidate in this weekend's European parliamentary elections, in which polls suggest the FN could emerge on top.
Le Pen senior's outbursts have already brought Marine Le Pen unwanted challenges despite her party's solid polling numbers.
Nigel Farage, the leader of the UK Independence Party (UKIP), has ruled out an alliance with the FN, saying the French party was too tainted by anti-Semitism - a reference to Jean-Marie's convictions for hate speech and Holocaust denial.
In his defence, Le Pen said that Ebola was a terrible disease that "like nuclear wars" could "modify a demographic evolution that is in itself catastrophic."
"In 1919, the Spanish flu killed in one year more people than WWI in five years," he said.
West Africa suffered an Ebola outbreak this year that began in impoverished Guinea.
Guinea has 127 confirmed Ebola cases, including 81 deaths, according to the latest government figures and the disease also emerged in Liberia.
Ebola is one of a handful of similar fevers that cause vomiting, diarrhoea, muscle pain, and in severe cases, organ failure and unstoppable internal bleeding.
- AFP