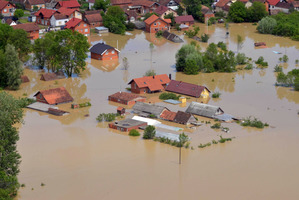 Epidemics could be the next challenge for the Balkans, as the death toll from the worst floods in more than a century hit 49 and water levels in Serbia inch ever higher.
Bosnia, where a million people were without drinking water, was in official mourning, while Serbia, where 1.6 million have been affected, was due to follow suit today.
Serbia's Prime Minister Aleksandar Vucics sounded the alarm over the possibility of disease as rising temperatures turn thousands of animal carcasses in the flood waters putrid.
"There are tonnes of dead animals that we must dispose of," Vucics said in parliament.
Health experts and army teams in Serbia and Bosnia wearing olive green protective uniforms were already working to decontaminate and disinfect the vast tracts of farmland under water.
Tonnes of dead animals have already been recovered, but muddy areas and landslides have hampered the effort.
The World Health Organisation said yesterday that it had sent an expert to advise Serbian authorities on sanitation and ensuring safe drinking water.
The WHO said it was also working to mobilise medical supplies, including supplies to fight diseases commonly spread by floods, such as illnesses that cause diarrhoea.
"We will face a major fight against epidemics and infectious diseases, which are inevitable after such floods," said Nermin Niksic, Muslim Croat Federation prime minister, one of the two entities that make up post-war Bosnia.
An intense deluge of rain last week caused the fast-flowing river Sava and its tributaries to burst their banks, leaving huge areas under water and causing hundreds of landslides.
More than 100,000 people have been evacuated in Bosnia in the worst exodus since its 1992-95 war, while in Serbia some 30,000 have had to flee their homes.
In Croatia, some 15,000 people have been evacuated, including 4000 in Gunja, where waters flooded the whole village. Two people have been killed, and one person is missing.
Officials in Bosnia also warned that some 120,000 unexploded mines left over from the Balkan wars of the 1990s could be dislodged and moved.
In Obrenovac, the Serbian town worst affected with more than half of the 20,000-strong population evacuated, health authorities have begun the gruesome task of removing victims.
On Monday, local time, Vucics said 14 bodies had been found in Obrenovac so far. Half of them drowned, the others died of natural causes.
In parts of Bosnia, water levels have begun to fall but in Serbia they were still rising yesterday and were expected to reach a peak later this week.
In the Serbian capital Belgrade, where the Sava flows into the Danube, volunteers have been working around the clock to make a wall of sandbags 12 kilometres long to protect the city.
"I didn't hesitate at all," said Milenko Pajic, an 18-year-old student helping with the flood defences. "If my grandfather could fight for his country with arms, I can pack up and pile up sandbags."
- AFP
New Zealanders wishing to donate to the flood relief effort in the Balkans can do so here and here.