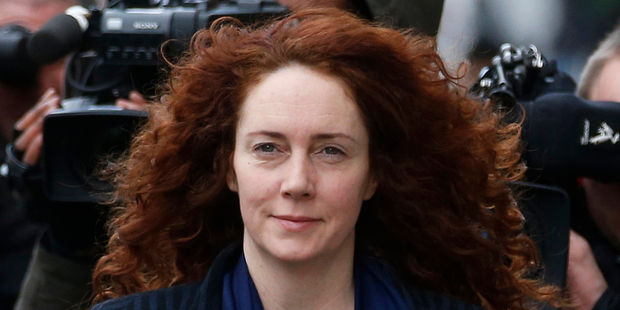 Britain's phone-hacking trial has revealed "no smoking gun" against former News of the World editor Rebekah Brooks, her lawyer has said in his closing speech.
Jonathan Laidlaw urged jurors at the Old Bailey court in London to ignore the media hype surrounding the case and "focus on the evidence" alone.
Brooks, a former protegee of Rupert Murdoch who rose to lead his British newspaper empire, denies four charges including conspiracy to hack phones.
Her lawyer said the trial, which began in October and involves six other co-defendants, had been described in the media as "the trial of the century".
"Much nonsense, complete nonsense, has been spoken about these proceedings and awful things have been said about Rebekah Brooks herself over the last few years," he said.
But Laidlaw insisted that the 45-year-old asked only that the jury be "fair-minded".
He said there was "no smoking gun" to suggest Brooks was guilty and the case against her was "circumstantial".
He said that phone hacking was "rare" during the time Brooks edited the News of the World tabloid between 2000 and 2003, with the evidence showing only one story published from the practice.
That was about missing teenager Milly Dowler in 2002, which was published when Brooks was on holiday in Dubai.
The revelation that Dowler's phone was hacked sparked public outrage and led Murdoch to shut down the Sunday tabloid in July 2011. Brooks was arrested shortly afterwards.
During the trial, prosecutors revealed an affair between Brooks and her deputy editor, Andy Coulson, which the prosecution said mattered because it suggested the couple were sharing confidences.
However, Brooks' lawyer noted that both she and Coulson were married at the time, and Brooks was in no position to say how much her lover had shared with her.
- AFP