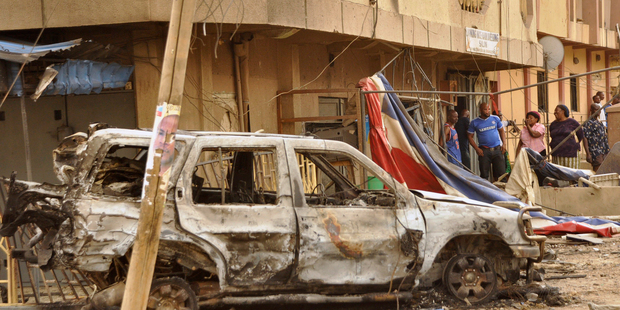 Twin car bombings have killed 46 people at a crowded market in the central Nigerian city of Jos, as emergency workers struggled to contain a raging fire, officials say.
"For now, we can authoritatively confirm that 46 people were killed in the blasts while 45 people were seriously injured," said Chris Olakpe, the police commissioner in Plateau state.
The first blast exploded from within a truck at roughly 1pm NZ time with rescue teams rushing to the city's New Abuja Market, the military said.
The second bomb came from a minibus some 20 minutes later and witnesses reported that many of the emergency workers were caught up in the blast.
Boko Haram Islamists are widely believed to have active cells in Jos and have attacked the city before, but the area has not been heavily affected by the extremist uprising.
Plateau state, which falls on the dividing line between Nigeria's mainly Christian South and mostly Muslim north, has however seen waves of sectarian violence that has killed thousands over the last decade.
"What we are doing now is (trying) to evacuate the dead bodies... many of them are burnt beyond recognition," said Mohammed Abdulsalam, a coordinator for the National Emergency Management Agency.
The bombings follow two separate attacks on the same bus station in a suburb of the capital, Abuja, on April 14 and May 1, that killed more than 90 people. The first was claimed by Boko Haram.
Four people were also killed on Sunday in a suicide car bomb attack in a predominantly Christian area of the northern city of Kano that had been previously targeted by the group.
- AFP