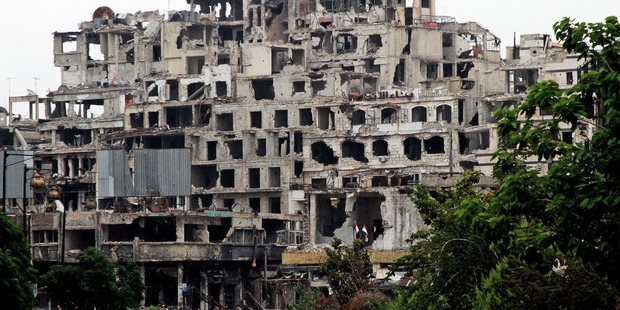 Wafa al-Tarshi dreams of returning to the "palace" she calls home in the Old City of Homs from which she was ejected by Syria's brutal conflict.
Her dream could soon come true as the third and final convoy of rebel fighters was yesterday poised to leave the Old City under a deal negotiated with the Syrian regime.
Government troops were due to move into Homs, Syria's third largest city, and Wafa and other families who sought refuge in the tiny Christian hamlet of Feiruzeh could go back home.
"I had a palace. But for the last two years I have been living in this room with my family," Wafa, 40, said as she followed the news from Homs.
The city of Homs in central Syria has been the scene of relentless fighting between rebels and loyalist troops as well heavy air raids by the Syrian air force.
Wafa, her husband, their three daughters and their son were among the first residents to flee the majority Christian neighbourhood of the Old City's Hamidiyeh area to Feiruzeh, southeast of Homs.
"We're watching the news on television and we can see that not one house has been spared in the fighting," Wafa said.
"But we still hope to go back and rebuild."
She had fled the Old City in central Homs as "bullets rained down" on the neighbourhood.
"When the gunmen entered Homs, we thought it'll be a matter of days only and they would leave ... but months passed.
"Now that they have reached an agreement, we hope to return."
Homs has often been dubbed the "capital of the revolution" unleashed three years ago by protesters demanding change in the country ruled by President Bashar al-Assad.
The uprising has since degenerated into a full-fledged civil war which has cost more than 150,000 lives and left millions of people displaced.
The fighting has ravaged Homs' Old City where rebels and residents have been under army siege for the past two years, leaving it in ruins, including the St Mary of the Holy Belt Church in Hamidiyeh.
In Feiruzeh, about 800 families from Homs have had to make do, with many squeezing into one-room homes, struggling to make ends meet.
Ahed al-Shami, Wafa's husband, used to run a thriving general store back in Hamidiyeh that his father had founded and made popular among Homs residents.
Now he runs a tiny grocery shop and works hard to feed his family of six, his elderly mother and a physically handicapped brother.
"We hope for the best, for us and for others," he said.
Samih, a former contractor who declined to give his full name, said the Homs accord was "a wise decision" even if his house was probably not standing.
A father of four who now earns a living selling shoes and clothes, Samih said he hoped the deal would have a positive impact on the rest of Syria.
Taxi driver Abu Salem agreed.
"It's the best news I've heard for the past two and half years," he said, even if "going back will take time because people will have to rebuild".
Nine-year-old Bushra was excited.
Going back would mean finding the clothes she had left behind, the books and the pictures.
"And I can play with my girlfriends again," she beamed.
- AFP