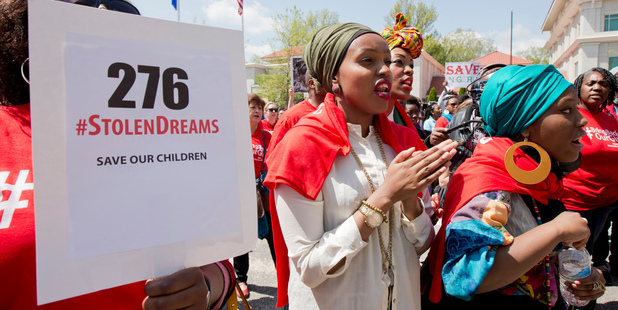 Here is a timeline of major events that have taken place since more than 200 Nigerian schoolgirls were abducted mid-April by Boko Haram Islamists.
The extremist sect has in the past carried out several bloody attacks on schools, colleges and universities, but the mass abduction of more than 200 girls is unprecedented.
Watch: Boko Haram threatens to sell kidnapped girls

APRIL 2014
- 14: 276 schoolgirls - aged between 12 and 17 - are kidnapped from their dormitory by gunmen in Chibok in northeastern Borno state, where the Boko Haram insurgency originated five years ago. The gunmen order the girls into trucks and drive them into the bush.
Dozens jump from the trucks and manage to escape.
- 29: Parents of the abducted girls protest government "indifference" to the mass abduction, their anguish heightened by reports the girls have been sold as wives abroad.
MAY
- 1: Hundreds of desperate parents protest in Chibok, calling for help from government and the international community. Protests are also staged elsewhere in Nigeria and abroad.
- 2: The police say Boko Haram militants are holding 223 of the initial 276 girls who were abducted, after 53 managed to escape.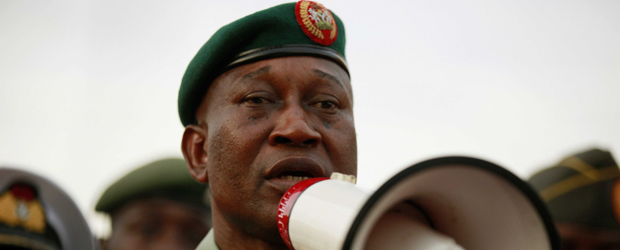 Brig. Gen. Chris Olukolade, Nigeria's top military spokesman. Photo / AP
- 4: Another 11 girls are abducted by suspected Boko Haram Islamists in Borno state, this time from the villages of Warabe and Wala.
President Goodluck Jonathan says his government is seeking assistance from US President Barack Obama and other world powers on his country's security challenges. He vows to do everything to ensure the release of the girls.
- 5: Boko Haram leader Abubakar Shekau, in a video obtained by AFP, claims the abduction of the girls and threatens to "sell" them in the market as "slaves".
The US State Department says it has information that the girls could have been ferried across to neighbouring countries. Chadian and Cameroonian authorities deny the presence of the girls in their territories.
Watch: Jolie condemns 'evil' kidnapping in Nigeria

- 6: Barack Obama describes the girls' abduction as "heartbreaking" and "outrageous", adding "this may be the event that helps to mobilise the entire international community" to finally act against Boko Haram. He confirms Nigeria has accepted the deployment of an American team of experts to help find the girls.
Al-Azhar, the highest religious authority among Sunnite Muslims calls for the release of the girls saying that harming them "totally contradicts the teachings of Islam and its principles of tolerance."
- 7: The police offer 50 million naira (215.000 euros, US$300,000) for information that could lead to the location of the girls.
In Paris, French President Francois Hollande offers Nigeria a "special team" to look for the girls and Britain says it will send a team of experts to Nigeria to help with the crisis.
China's Premier Li Keqiang, on a visit to Abuja, promises that his country will make any useful information acquired by its satellites and intelligence services available to Nigeria's security agencies.
- AFP