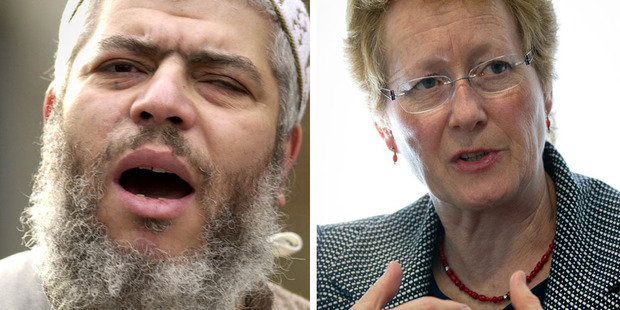 British hate preacher Abu Hamza has told his US terror trial how he once jointly managed a London strip club in his quest to live a Western, movie-style life.
Mustafa Kamel Mustafa, 56, better known in Britain as Abu Hamza al-Masri, has pleaded not guilty to 11 kidnapping and terror counts that pre-date the 9/11 attacks.
Blind in one eye and with both hands blown off in an explosion in Afghanistan, he faces life in prison in a maximum security US prison if convicted by jury at the New York court.
Earlier today New Zealander Mary Quin gave evidence about how he'd admitted to her that he'd supplied advice and a satellite phone to the Islamist kidnappers of 16 Western tourists in Yemen in 1998.
Following her evidence, Hamza took the first time in his trial, wearing tracksuit bottoms, a blue T-shirt and orange socks, the Egyptian-born former civil engineer spoke softly.
At one stage he elicited laughter from jury members by doling out marital advice, saying it would be "silly" for a man to tell his wife he didn't love her.
"This is a silly kind of truth," he said, explaining the man could easily change his mind multiple times.
"Maybe he loves her later" or "maybe she is the best person for him," he said in an almost scholarly voice.
He also said his engineering studies included the World Trade Center, destroyed in the 9/11 attacks he has praised, and the effect of "explosions" and demolition - which he said became "useful" later in life.
He is charged over the 1998 kidnapping in Yemen of 16 Westerners, conspiracy to set up a jihad training camp in Oregon in 1999, of providing material support to Al-Qaeda, of assisting the Taleban and of sending recruits for terror training in Afghanistan.
The three-times married father of nine said he moved to England in 1979 aged 21 because he "looked forward to a Western life, American-style."
He testified that he wanted to "pursue my dreams as we see in the films" after growing up in Egypt's Mediterranean city of Alexandria, which he described as "very close to Italy" and used to foreigners.
In London, he took odd jobs, working as a hotel receptionist, a bouncer in the Soho party district and said he was "co-manager of a strip club."
He wanted to "make money and enjoy myself" and only later saw his jobs as on the "wrong side of morality."
Once he saved up enough money, he said he got a degree in civil engineering.
As an engineer he worked as a contractor at Britain's prestigious military academy Sandhurst, which he quickly pointed out was where Prince Harry had trained.
He blamed his initial interest in Islam in 1982 on his English wife, who was "pushing too hard" to convert as a means for the couple to spend more time together.
They bought an English edition of the Koran and stopped smoking. During the Muslim fasting month of Ramadan, he took time off from the clubs and found that he "enjoyed" the break, he said.
Despite saying lies were justified in Islam in certain cases, he denied he would lie on the stand.
"I'm no stranger to prison. If my freedom comes at the expense of my dignity, I don't want it," he said.
He was indicted in the US in 2004 and was arrested in Britain, where he served eight years in prison before losing his fight against extradition in 2012.
Kiwi faces hook handed terror king
Mary Quin, a dual NZ-US citizen, confronted Abu Hamza head-on in a Manhattan federal court, where he is on trial for 11 kidnapping and terror charges.
She spoke about the terrifying 24-hour kidnapping that ended with four hostages being killed and testified to meeting Abu Hamza in October 2000 while researching her published memoir Kidnapped in Yemen.
Read more of the Herald's coverage of Mary Quin's ordeal:
• Kiwi who terror king didn't see coming
During that interview at Finsbury Park Mosque in London, Quin said Abu Hamza justified the kidnapping and killing of civilians in defence of Islam.
"Islamically it's a good thing to do," she quoted Abu Hamza as saying of the kidnapping of foreign tourists.
He told Quin that the chief kidnapper, Abu Hasan, called him during the kidnapping and that he advised him to stay back to avoid being killed during the Yemen army's rescue operation, she said.
When she asked how the kidnappers got their satellite phone, Abu Hamza said: "It came from outside."
"From you?" Quin asked.
"Yeah perhaps," he replied, according to her testimony and a transcript of the interview submitted as evidence.
The cleric said the motive was to exchange the Australian, British and US hostages for detainees in Yemen, but was vague on whether they included Britons.
Five British men and an Algerian were arrested in Yemen on December 23, five days before the kidnapping.
Three other British men were arrested on January 27, 1999. Among the eight Britons were a son and step-son of Abu Hamza.
At no point did he express regret to Quin for the four Westerners who died during the rescue operation, she said.
At one point, however, he even implied they got off lightly by saying it would have been "easy" to have fired a rocket and blown up a car of tourists.
The kidnapping was intended to undermine the Yemeni government and end the tourist industry, which was bankrolling "unIslamic behavior," Abu Hamza told her.
'Defendant was laughing'
Quin said Abu Hamza laughed after asking why none of the hostages had a cell phone.
"The defendant was laughing and said you should have a compass as well," Quin said.
Mustafa Kamel Mustafa, 56, better known in Britain as Abu Hamza al-Masri, has pleaded not guilty to all the charges but faces life in prison if convicted.
Blind in one eye and with both hands blown off in an explosion in Afghanistan, he sat quietly in tracksuit bottoms and a T-shirt, taking notes.
Quin said he claimed not to know the arrested Britons were going to Yemen, but if he had, would have advised them to travel under false identities.
He would also have told them to take bombs and "some James Bond things," she quoted Abu Hamza as saying.
She was the second of the two US former hostages to testify about their horrific ordeal and the more than two-hour gunfight that ended in their rescue.
The kidnappers lined up hostages on a berm and opened fire between their legs, she said.
"I could feel a bullet go so close to my face I felt the air move," she said. She described the "zinging sound of the bullets" as "just like in the movies."
At one point she grabbed a gun off a kidnapper nicknamed "Purple Skirt" because of his traditional attire, in her bid to run for safety.
He was shot and trying to hold onto his AK-47, as the two screamed at each other, she said.
"I put my foot down on his head and that gave me enough leverage to rip the gun out of his hand."
Abu Hamza was indicted in the United States in 2004 and served eight years in prison in Britain before losing his last appeal against extradition in 2012.
- AFP