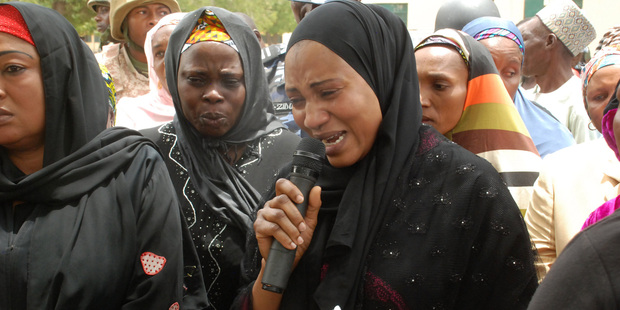 A Boko Haram massacre has killed hundreds in Nigeria's northeast, multiple sources said, as police offered $350,000 for information leading to the rescue of more than 200 schoolgirls held hostage by the Islamists.
The latest insurgent attack targeted the town of Gamboru Ngala on the border with Cameroon, where gunmen this week razed scores of buildings and fired on civilians as they tried to flee.
Area Senator Ahmed Zanna put the death toll at 300, citing information provided by locals, in an account supported by numerous residents.
Zanna said the town had been left unguarded because soldiers based there had been redeployed north towards Lake Chad in an effort to rescue more than 200 girls kidnapped by Boko Haram on April 14.
The shocking mass abduction has sparked global outrage and offers of help from the United States, Britain, France and China.
Nigeria offers reward
Nigeria's response to the kidnappings has been widely criticised, including by activists and parents of the hostages who say the military's search operation has been inept so far.
Nigerian police have now offered a reward of 50 million naira ($NZ349, 800) for information leading to the rescue of the 223 girls being held hostage by Boko Haram Islamists.
"The Nigeria Police hereby announce a cash reward of 50 million naira to anyone who volunteers credible information that will lead to the location and rescue of the female students abducted from Government Girls Secondary School, Chibok, Borno State,'' a statement said, referring to the April 14 mass abduction claimed by the Islamist extremists.
Britain: Abduction 'pure evil'
British Prime Minister David Cameron condemned as "pure evil" the kidnapping in Nigeria of hundreds of schoolgirls by Boko Haram Islamists.
"I'm the father of two young daughters and my reaction is the same as every father or mother in this land or the world," he told the House of Commons.
"This is an act of pure evil, it has united people across the planet to stand with Nigeria to help find these children and return them to their parents."
Cameron said Britain had made "repeated offers of help" to the Nigerian government since more than 200 girls were seized on April 14.
"I'll be speaking to the Nigerian president this afternoon and will again say Britain stands ready to provide any assistance immediately we can, working very closely with the US," the prime minister said.
He added: "This is not just a Nigerian issue, it is a global issue.
"There are extreme Islamists around our world who are against education, against progress, against equality and we must fight them and take them on wherever they are."
US President Barack Obama has sent military experts to Nigeria to help in the search.
- AFP