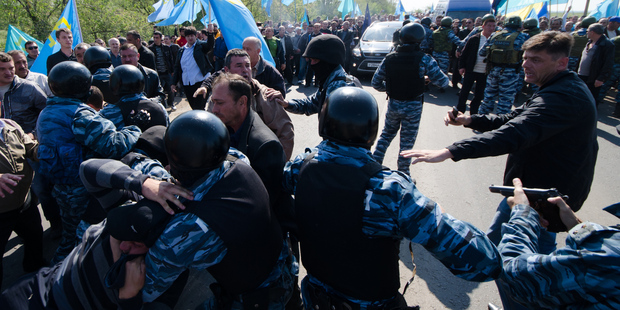 Strong local support for the rebel movement has proved a major barrier to Kiev in responding to the situation and the spate of violence.
Many in Slaviansk see the Ukrainian Army as an invading rather than liberating force.
Local people claim that the Ukrainian Army shot at unarmed citizens who formed a human chain near a road blockade on the edge of the village of Andreevka, only a few kilometres from Slaviansk. "They are killing peaceful people," said Igor, 29, a farmworker who was receiving treatment at the Slaviansk hospital for a shrapnel injury he said he suffered during the night assault.
"I understand the soldiers; they have signed up and now they don't know what to do," said stall owner Tatiana, 50. "The Government are pitching people here against each other."
The fighting and increased isolation in the east - television stations have been turned on and off by the opposing forces - have proved a fertile breeding-ground for Russia's churning propaganda machine, which has played a central role in fuelling the conflict.
Many believe foreign forces and nationalist groups are acting as part of the Kiev operation under the Ukrainian Army. "They are here: the US Army, mercenaries," 48-year-old Yelena said. "You see what they have done in Odessa. They want to kill us, to destroy us totally."
- Observer