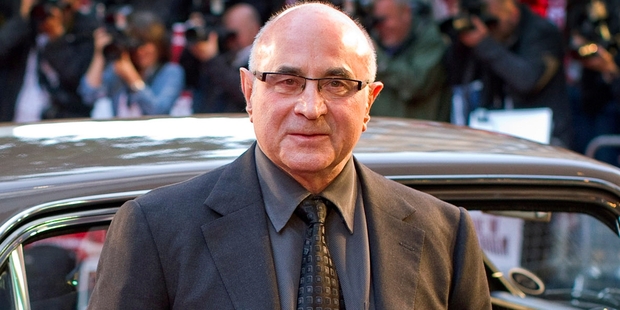 Bob Hoskins who has died aged 71, was hailed as the original tough guy of British film, but once described himself as "short, fat and bald, the only actor who had to diet and wear lifts to play Mussolini".
His cuboid frame, villainous features and Cockney accent fitted him for a series of roles which he described as "animals, thugs and heavies". These included the gangland boss Harold Shand in The Long Good Friday (1980) and the violent minder George in Mona Lisa (1986), a portrayal that earned him an Oscar nomination. Hoskins won critical success in both films, mainly for his ability to exude menace while suggesting the vulnerability beneath the violent surface of his characters.
Ultimately it was Hoskins' versatility and eye for a good part that made him a star. He played Arthur Parker in Dennis Potter's innovative and hugely successful Pennies from Heaven (1978); Nathan Detroit in the National Theatre's first musical Guys and Dolls (1981); and cameo parts such as the police chief in The Honorary Consul (1983) and Robert de Niro's plumbing partner in Brazil (1985).
Like his friend Michael Caine, Hoskins was one of the few British actors to become equally successful in Hollywood. Films such as The Cotton Club (1984), Sweet Liberty (1986) and the box office smash Who Framed Roger Rabbit? (1988) consolidated his position as a British actor who could make the transition to the United States.
Robert William Hoskins was born in 1942 in Suffolk, but grew up in Finsbury Park, north London. His father was a clerk, his mother a school cook. At Stroud Green secondary modern school, his dyslexia meant that he was often written off as stupid.
Hoskins had never been formally trained, and was always proud that he had never attended a single acting lesson. Instead, on leaving school in 1959, he took temporary jobs, including as a merchant seaman in the Norwegian navy, a banana-picker on a kibbutz, camel-herder in Syria and porter at Covent Garden market.
In 1969, after an abortive attempt at going into accounting with his father, Hoskins claimed that he "fell sideways into acting by mistake". While waiting in a pub with a friend who wanted to audition for the Unity Theatre, Hoskins was mistaken for the next candidate. "I was too pissed to argue," he recalled, "so I got on stage and acted my socks off." He was offered the lead in The Feather Pluckers, and at the play's first night was signed up by an agent.
Hoskins spent the next 12 months in repertory, building up a reputation as an actor who was content to do anything.
In 1975 he was offered his first television role in On the Move. The programme established him as a "screen natural", and attracted a wide following and an almost cult status.
After his television appearance, offers of work on stage and screen doubled.
One critic described Hoskins as having "cornered the market in the cheeky Cockney chappie".
In 1980 The Long Good Friday, which was enormously successful in the US, established Hoskins as a global star.
In 1981 Hoskins starred in the National Theatre's production of Guys and Dolls. As in Pennies from Heaven, Hoskins' charismatic performance carried him over any deficiencies in his singing and dancing. Critics described Hoskins' "animal appeal" and "considerable panache".
They began to compare him with Edward G. Robinson and George Raft, and to call him "the Cockney Cagney".
On television he won critical approval for his portrayal of the Italian dictator in Mussolini: the Decline and Fall of Il Duce (1985); while his appearance in The Street in 2009 earned him the accolade of Best Actor at the International Emmy Awards of 2010. In 2012, after being diagnosed with Parkinson's disease, he retired from acting.
He is survived by his second wife and four children.