Parents of abducted schoolgirls demand action from Govt.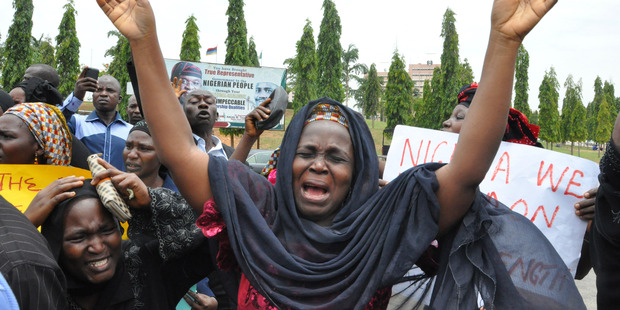 Nigerian parents lashed out yesterday at the Government's failure to rescue scores of schoolgirls kidnapped two weeks ago by Boko Haram Islamists, as a local leader claimed the hostages had been sold as wives abroad.
"May God curse every one of those who has failed to free our girls," said Enoch Mark, whose daughter and two nieces were among the more than 100 students abducted from the Government Girls Secondary School in the Chibok area of northeastern Borno state.
The attack was one of the most shocking in Boko Haram's five-year uprising, which has claimed thousands of lives across northern and central Nigeria. The outrage that followed the mass abduction has been compounded by disputes over how many girls were seized and criticism of the military's search-and-rescue effort. Locals have scoured the bushlands of the remote region, pooling money to buy fuel for motorcycles and cars to conduct their own rescue effort.
Borno officials have said that 129 girls were kidnapped when gunmen stormed the school after sundown on April 14 and forced the students - who are between 12 and 17 years old - onto a convoy of trucks.
Officials said 52 have since escaped. Locals, including the school's principal, have rejected those numbers, insisting that 230 students were snatched and that 187 are still being held hostage.
Pogo Bitrus, leader of a Chibok elders group, said locals had been tracking the movements of the hostages with the help of "various sources" across the northeast. "From the information we received yesterday from Cameroonian border towns our abducted girls were taken ... into Chad and Cameroon," he said. The girls were then sold as brides to Islamist fighters for 2000 naira ($14) each. There was no independent confirmation of his report. Some of the girls who escaped have said the hostages were taken to Borno's Sambisa Forest area, where Boko Haram has well-fortified camps.
Nigeria deployed thousands of additional troops to the northeast last year, but security experts say the military lacks the troops needed to fully cover the region. The Defence Ministry said it had killed 40 insurgents near Sambisa Forest in an operation aimed at finding the kidnappers.
An organisation called Women for Peace and Justice has called for a "million-woman protest march" in the capital Abuja tomorrow to demand that more resources be committed to securing the girls' release. "How is it possible in the age of drones and Google Maps and aerial shots that over 200 girls will vanish without a trace," protest organiser Hadiza Bala Usman said.
Boko Haram
• The group's name translates as "Western education is forbidden''.
• It has repeatedly attacked schools during an insurgency aimed at creating a strict Islamic state in mainly Muslim northern Nigeria.
• The Islamists have set schools on fire, massacred students in their sleep and detonated bombs at university campus churches.
- AFP