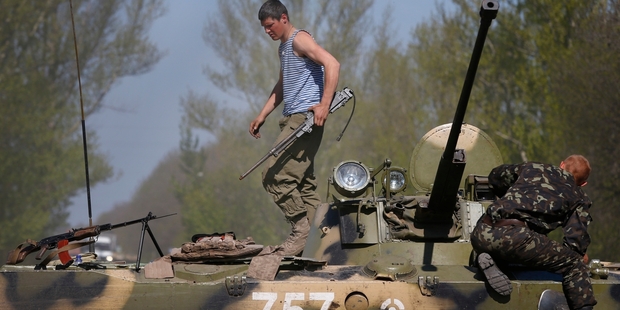 Heavily armed pro-Russian gunmen last night seized another town in east Ukraine, storming the town hall in Kostyantynivka and setting up barricades.
Kostyantynivka has 80,000 inhabitants and is located mid-way between the flashpoint town of Slaviansk and the regional hub city of Donetsk, both of which are also under the control of separatists. In Donetsk, a pro-Russian crowd of around 400 took control of a state television centre under the nose of Ukrainian police.
US President Barack Obama warned Europe not to duck tougher sanctions on Russia, as the White House revealed that new measures to be imposed today will hit Russia's defence industry. Tony Blinken, the US deputy national security adviser, said that America would restrict the sale of high-tech equipment to the Russian military, and impose restrictions on the country's defence industry.
Separatists paraded two groups of alleged "spies" before television cameras in Slaviansk. One group, accused of being Ukrainian secret agents, were filmed stripped of their trousers and wearing bloodstained blindfolds, having apparently been badly beaten. The others were an eight-strong team of European observers from the Organisation for Security and Co-operation in Europe, who were arrested on Saturday on suspicion of being spies for Nato. In contrast with the Ukrainian prisoners, they said they had not been mistreated, although their captors insisted that they would only be handed over in exchange for pro-Russian activists arrested by the Government in Kiev.
- AFP