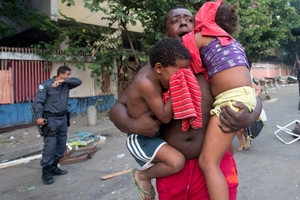 At least 10 residents and police officers were injured yesterday as authorities ousted squatters from an abandoned building just steps from Rio's Maracana stadium.
With the start of the World Cup two months away, Brazil has stepped up security efforts in the metropolis, where tens of thousands of football fans will fly in for the tournament and which will stage seven matches - including the July 13 final at Maracana.
At dawn hundreds of police arrived at the building - which had been occupied by squatters in recent weeks - with an eviction order requested by the Oi phone company, which owns the property.
Cranes and tractors demolished wooden huts built around the building, many still full of the belongings residents had had no time to pack.
Hundreds of desperate and angry residents and neighbours poured into the street to protest their losses.
"This is what happens in the (World) Cup country," was a repeatedly heard lament.
Dozens of furious youths threw stones and bottles at police, who responded with tear gas and rubber bullets.
Several buses were set on fire.
For several hours, about 100 protesters resisted police orders to vacate the building.
- AAP