Protesters take to streets in show of strength against their leader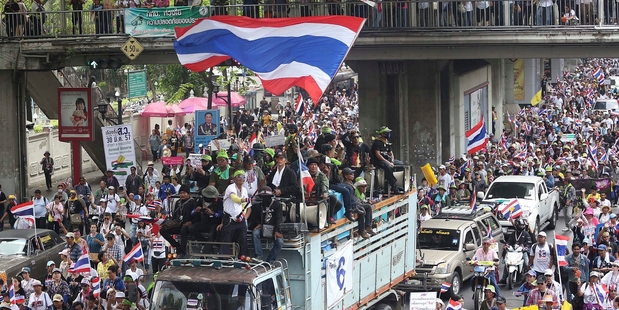 Tens of thousands of anti-government protesters marched through the streets of the Thai capital yesterday, reviving their whistle-blowing, traffic-blocking campaign to force the resignation of the prime minister.
The Bangkok protest came after a lull in anti-government rallies and amid growing concern of violence between opponents and supporters of embattled Prime Minister Yingluck Shinawatra.
Yingluck's opponents have previously tried to force her out by blocking Bangkok's major intersections, and have stormed government offices.
The protesters have demanded the Government yield power to an interim appointed council to oversee reforms before new elections.
They say Yingluck is a proxy for her brother, former Prime Minister Thaksin Shinawatra, who was ousted in a 2006 coup after being accused of corruption and abuse of power.
The march was the first major rally since Thailand's Constitutional Court ruled on March 21 to nullify last month's general election.
"The fact that the election has been nullified means that our campaign is successful," protest leader Thaworn Senniem said.
Yingluck's ruling Pheu Thai party and its predecessors have won every election since 2001. It had been expected to win in February, especially because the opposition Democrat Party boycotted the election.
Election officials say it would take at least three months for a new vote to be held, prolonging Thailand's political paralysis.
Yingluck's Red Shirt supporters have vowed to stage their own mass rally next Saturday, though they have not yet said if it will be held in the capital, which many fear could lead to clashes between the two sides.
The sporadic violence over the past four months has left at least 23 people dead and hundreds hurt.
Thailand has seen political conflict since 2006, when Thaksin was ousted in a military coup.