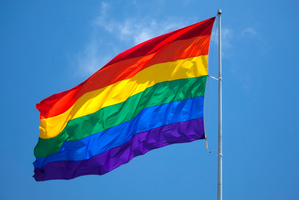 An incoming UK Labour government would appoint a gay rights envoy to tackle discrimination around the world, Ed Miliband has pledged.
The move came as the party accused the Coalition of dragging its feet over allowing couples in civil partnerships to "upgrade" to marriage.
The first same-sex weddings will take place tomorrow but the legislation allowing people in civil partnerships to marry has not yet been implemented.
Interviewed in Attitude, Mr Miliband said that a Labour government would put human rights at the heart of its international agenda, and that gay rights would be "an absolutely fundamental part of that."
He described the transformation in the UK as "the most profound change for the better" in his lifetime but said the prejudice still seen abroad was "much more depressing". Anti-gay legislation passed in Uganda, Nigeria and Russia has made headlines around the world.
The Labour leader said: "I'm going to appoint an envoy on these issues, around the international agenda of LGBT rights, because I think it's a really important issue for an incoming Labour government."
Mr Miliband added: "It's for other countries to pass their own laws, but I think we have a responsibility to speak up and stand up when we think there is discrimination.
"We need to say that we think this is not the right way to go and this is who we are and who we stand for, and equality is part of the values we want to uphold.
"I think you only have to look at what is happening in a lot of countries - and look at what's happened in Russia - to see that there's a massive battle we've got internationally on this. It's absolutely terrible you've got increasing criminalisation, persecution, witch hunts against gay people in lots of different countries."
Labour sources said there was no reason to delay regulations allowing a civil partnership to be converted to a marriage. They expressed concern that couples could not "set a date", saying that some people wanted to marry before moving abroad or because one partner is ill.
Gloria de Piero, the shadow Equalities Minister, has written to Maria Miller, the Culture Secretary, to express concern about the wait.
She said: "It is unclear why these provisions are taking so long to implement and I urge you now to ensure that the remaining legislation is brought before Parliament without further delay and to publish a clear timetable for doing so. This weekend let's give all those couples to whom the right to marriage was extended with the Marriage (Same Sex Couples) Act a reason to celebrate."
A government spokeswoman said: "Our priority is to ensure that couples, who are not in a civil partnership and who have been waiting to marry in order to formalise their relationship, are able to do so as soon as possible.
"We do not consider it fair to delay the first weddings until we are able to implement the conversion process. However, we are working hard to ensure that couples wanting to convert their civil partnerships into marriages can do so before the end of 2014."
The conversion process will ensure that couples in civil partnerships do not have a break in their legal relationship, which could have implications for rights such as their pension entitlements.
- THE INDEPENDENT