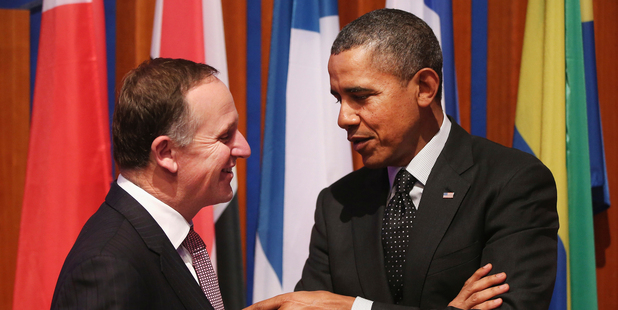 British Prime Minister David Cameron played a "nukes on the loose" war game with US President Barack Obama, German Chancellor Angela Merkel and other world leaders to see how they would cope with a terrorist nuclear attack, it has emerged.
The heads of state took part in the computer tests alongside dozens of other leaders during a nuclear summit this week in The Hague.
In a series of anonymous tests, the leaders, who included China's Xi Jinping, were asked to respond to various events, using a touch screen to record their answers.
The event has been compared with the 1980s film WarGames, which starred Matthew Broderick as a hacker who gains access to a United States military supercomputer, nearly triggering a nuclear war.
US officials said that the test had been designed to give a "scare you to death" shock to make leaders seriously think about the security of nuclear materials.
Cameron said that "it all ended happily" when questioned yesterday about the tests.
It is understood that Merkel complained at being made to take part.
Obama, the only leader who played the game accompanied by a senior official, is understood to have been pushed for the demonstration to take place. In the war game, played out by actors in a series of short films, terrorists attack an unnamed Western metropolis with a "dirty bomb".
It could be "the City of London, or Wall Street or Milan", summit leaders were told. It emerged that the terrorists were from an unidentified global terror network and had stolen their nuclear material.

US President Barack Obama addresses the media at the end of the Nuclear Summit in The Hague. Photo / AP
The leaders were told that the device was deadly and the clock was ticking, with the potential for hundreds of thousands of people to die.
A diplomatic source said: "They had to give an answer on their own, in real time. It was like a test. It put them on the spot. Should they inform the public or keep them in the dark?
"Should they work with other countries or stand alone to try to thwart or minimise the attack? How should they make the cold calculation of how to get a more sustainable human cost in terms of deaths?"
A Downing Street source said: "The war games-style tabletop session was an innovative way of bringing the summit to life and encouraging leaders to share their own thoughts and experiences of handling such tense situations.
"The Prime Minister liked the interactive style and the fact leaders were confronted with different events they had to respond to.
"And it should be reassuring to people that they took the right decisions to ensure a happy ending where the terrorists didn't succeed in making a bomb."