Ukraine ordered its troops late last night to withdraw from Crimea following the peninsula's seizure and annexation by Russia.
"The national security and defence council has reached a decision, under instructions from the defence ministry, to conduct a redeployment of military units stationed in the Autonomous Republic of Crimea," Acting President Oleksandr Turchynov said.

"The cabinet of ministers has instructions to resettle the families of soldiers as well as everyone else who today is forced to leave their homes under the pressure and aggression of the Russian army's occupying forces."
Meanwhile, a Ukrainian air force commander is being held after his base in Crimea was stormed by pro-Russian forces, and earlier yesterday, Turchynov demanded he be freed.
Colonel Yuli Mamchur is head of the Belbek Air Force base near Sevastopol, which was taken over on Sunday by forces who sent armoured personnel carriers smashing through the base's walls and fired shots and stun grenades.
One Ukrainian serviceman was reported wounded in the clash.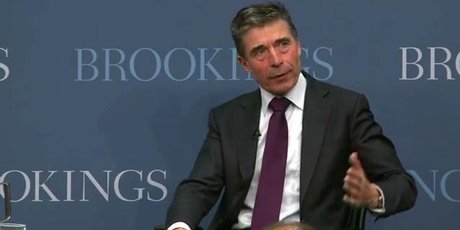 Russian troops had reportedly also seized control of the Ukraine naval base in the Crimean city of Feodosia.
It was unclear if the forces, who didn't bear insignia, were Russian military or local pro-Russia militia.
Turchynov said Mamchur had been "abducted" by the forces. He didn't specify where Mamchur is believed to be held.
However, prominent politician Vitali Klitschko said Mamchur was being held by the Russian military in a jail in Sevastopol, which is the base of Russia's Black Sea Fleet.
- AFP, AP