Ukraine's premier seeking political and financial support as crisis stances harden.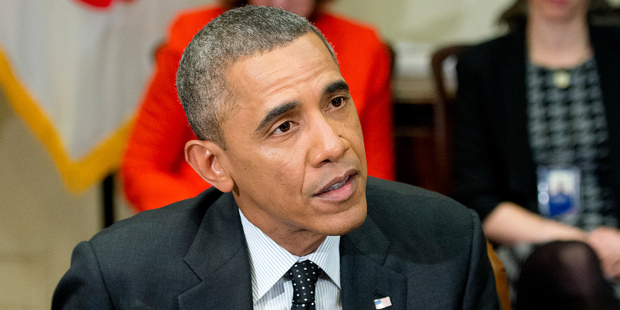 The East-West split reopened by the crisis in Ukraine hardened when President Barack Obama threw Washington's weight firmly behind Kiev in its standoff with Moscow.
Obama welcomed Ukraine's interim premier Arseniy Yatsenyuk to the White House and appeared by his side as both leaders sternly warned Russia that Ukraine would not surrender its sovereignty.
He repeated that Moscow would face unspecified "costs" if Russian President Vladimir Putin does not back down, and rejected a bid to hold what he called a "slapdash" referendum in Crimea.
"There's another path available and we hope President Putin is willing to seize that path," Obama told White House reporters, sitting alongside Yatsenyuk.
"But if he does not, I'm very confident that the international community will stand firmly behind the Ukrainian Government."
Yatsenyuk thanked Washington for its support and declared: "We fight for our freedom.
We fight for our independence. We fight for our sovereignty. And we will never surrender."
After a series of meetings in Washington, Yatsenyuk was to head to New York today for talks at the United Nations. Breakaway leaders on Ukraine's Crimean peninsula, backed by Putin, plan to hold a referendum on Sunday to split from Kiev and come under Moscow's wing.
Russian troops backed by ad hoc local militias secured the territory in the chaotic days last month after Ukraine's former pro-Kremlin leader Viktor Yanukovych was overthrown by a street revolt.
Obama said he hoped the crisis could be resolved through diplomacy, but Ukraine and the West do not recognise the referendum and Moscow does not recognise the Kiev government.
The US leader appeared to suggest that Crimea's future is not set in stone, but that any change in status would be a matter for Ukrainian constitutional process after upcoming elections.
Yatsenyuk said he was "ready and open" for talks with Russia, but warned: "We want to be very clear that Ukraine is and will be a part of the Western world."
During his trip to Washington, Yatsenyuk also plans to try to iron out details of a US$35 billion ($40.9 billion) aid package he says his nation needs to stay afloat.
- AFP