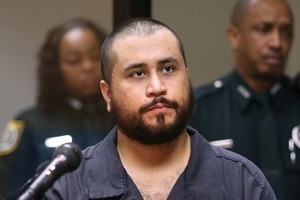 George Zimmerman, the man who fatally shot black teenager Trayvon Martin in 2012, was the 'celebrity guest' of honour at a gun show in Florida over the weekend.
The former neighbourhood watchman had a table at the New Orlando Gun Show especially to sign autographs and pose for photographs with 'fans'.
However, during the six hour event, fewer than 20 people asked for him to sign the free promotional shots of him with his dog.
One couple, who gave their names to the New York Daily News as Melissa and Matt, told the publication that they were the only people waiting to meet him.
"He seemed nervous and actually a little scared to be there. He also appeared emotional, like he was really thankful and touched that people would come out to see him," said Melissa.
"It was pretty weird to meet him in person - and wow, he has gained a lot of weight!"
Zimmerman, who hit the headlines after taking part in a string of promotional interviews to mark Martin's death, said that he was enjoying himself, despite the poor turn-out.
"Everything's good. We're having fun," he was quoted as saying. "I'm just here to meet supporters."
He posted the following on Twitter after the event:
Great meeting my supporters @ The Arms Room factory & Show room at 19048 E. Colonial Dr. Orland FL 32820

— George Zimmerman (@TherealGeorgeZ) March 8, 2014
Great day with great people. God bless you America! pic.twitter.com/Xrs3fDPSpG

— George Zimmerman (@TherealGeorgeZ) March 9, 2014
As well as retweeting this somewhat questionable post from a follower:
@dwyanesthename @TherealGeorgeZ @Lisa_Fiori77 I'll walk beside him and shoot a bitch if one tries to attack us #boom

— lana (@lana_chula) March 9, 2014
And also making out that far more people had turned up than actually had:
What a gorgeous day to meet my friends! Thank you all for coming down to show your support I am so fortunate for each and everyone of you!

— George Zimmerman (@TherealGeorgeZ) March 9, 2014
Zimmerman was joined by his girlfriend Samantha Scheibe, who accused him of threatening her with a gun last year.
According to organiser Mike Piwowarski, the meet-and-greet event was initially cancelled, after the original venue hired for the gun show backed out at the last minute when they found out that Zimmerman would be making the controversial appearance.
"Come on out and meet George Z! He's here a few more hours. And no matter what you read, there are no protesters, lunatics or other varieties of a- clowns," the store posted via its official Facebook page.
Piwowarski had invited Zimmerman to attend after meeting him through a mutual friend.
Zimmerman, who was controversially acquitted of the second-degree murder and manslaughter of unarmed black teenager Trayvon Martin in July 2013, announced his ambitions to become a lawyer to prevent 'miscarriages of justice' from occurring in the future last month.
"I'd like to professionally ... Continue my education and hopefully become an attorney," he told CNN show New Day.
"I think that's the best way to stop the miscarriage of justice that happened to me from happening to somebody else. I don't think it should ever happen to anyone ever again, not one person."
However, in the same interview, he also admitted he was worried he'd missed Martin when he shot and fatally wounded him that evening.
"I was afraid it had gone through his clothes and that it was going to go ... Get lost, and, um, you know, go into a house and... Because the young man was still talking to me, as I have said.
"So I thought that it hadn't... Affected him, and I got worried, and I said, 'I hope that it hasn't-that the bullet hasn't hit a neighbour.'"
Last month, a celebrity boxing match featuring George Zimmerman and rapper DMX was cancelled.
Taking to Twitter, promoter Damon Feldman posted that he was "done with Zimmerman", and that he had made the decision to pull the match because he was "the wrong person to put in a the ring and define celebrity boxing".
A second promoter is since thought to be working on a new boxing event for Zimmerman.
Zimmerman was found not guilty of all charges, after he fatally shot unarmed 17-year-old Trayvon Martin during a fight in February 2012 inside a gated community in Sanford. He claimed that he had killed Martin with a weapon in an act of self-defence.
Zimmerman remained without charge for 44 days after the shooting occurred, which led to nationwide protests and sparked furious debate over racial profiling and the right to use weapons in self-defence. Further demonstrations broke out after Zimmerman was acquitted in 2013.
Federal authorities are currently reviewing the entire case to decide whether Martin's civil rights were violated.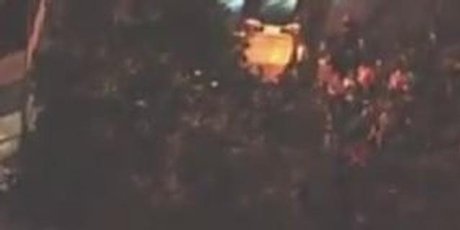 - UK Independent