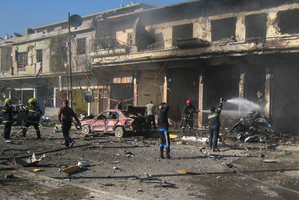 A suicide bomber detonated an explosives-rigged minibus at a crowded checkpoint near Baghdad, killing 18 people, after Iraq's premier accused Riyadh and Doha of fuelling bloodshed in his country.
Iraq has been hit by a year-long surge in bloodletting that has reached levels not seen since 2008, driven principally by widespread discontent among its Sunni Arab minority and by the civil war in neighbouring Syria.
Analysts and diplomats have urged Iraq's Shi'ite-led authorities to reach out to disaffected Sunnis but with elections due next month, political leaders have not wanted to be seen to compromise and have instead pursued a hard line against militants.
Attacks have continued unabated, with a morning rush-hour bombing of a checkpoint at the northern entrance to Hilla, the mixed but mostly-Shi'ite capital of Babil province south of Baghdad, killing 18 people and leaving 75 others wounded.
Five of those killed in the checkpoint blast at the northern entrance to the city of Hilla were policemen, an army officer and a medical source said, updating an earlier casualty toll.
"Some of the victims were burned inside their cars," a police officer said.
Militants carry out frequent attacks on security forces, and they also target areas where crowds of people gather. The checkpoint combined the two.
In Abu Ghraib, west of Baghdad, gunmen shot dead at least two soldiers and wounded one at an army checkpoint, while three attacks north of Baghdad killed a police colonel and two policemen.
Violence in Iraq has reached a level not seen since 2008, when the country was just emerging from a brutal period of sectarian killings in which tens of thousands of people died.
The violence has killed more than 120 people so far this month and over 1850 since the beginning of the year, according to AFP figures based on security and medical sources.
AFP
-AAP