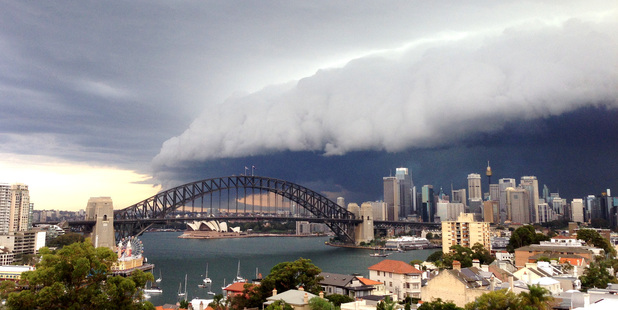 A gigantic storm front moved in over Sydney yesterday and residents were quick to upload dramatic pictures of it to the internet.
Huge clouds hundreds of feet high, with some shaped like giant tubes, loomed menacingly over the city during rush hour.
As forecasters warned of heavy rain and flash flooding, Twitter and Facebook became awash with pictures of the looming storm, with one describing the conditions as 'apocalyptic'.
Jason Murray tweeted 'b****y hell' as the storm rolled in. Another wrote: 'Bad time for bike commute home. OK, that's a storm alright.'

Josh Noble thought the clouds reminded him of a certain Hollywood blockbuster.
'It's Independence Day,' he wrote.
The clouds completely dwarfed the city's landmarks and the storm forced flights to be diverted.
Torrential rain, meanwhile, created severe road delays, with reports of jams several miles in length stretching back from Harbour Bridge.
***
Meanwhile, the sightseer of 4014 may have to pay a virtual visit to the Sydney Opera House or Statue of Liberty, according to a climate study that warns of dramatic ocean encroachment on heritage sites.
While modern civilisation is fascinated by the pyramids of Egypt, Rome's Colosseum and the Parthenon in Greece, much of this inheritance as well as our own cultural legacy may be lost to sea-levels rising as much as 1.8 metres due to global warming, researchers said.
Out of more than 700 listed UNESCO World Heritage sites, nearly 140 risk being flooded in 2000 years' time, they projected in a study published this week in the journal Environmental Research Letters.
These also include the Tower of London, Venice in Italy, Japan's Hiroshima Peace Memorial and Robben Island in South Africa where Nelson Mandela was imprisoned for 18 years.
The calculation is based on sea-level rises associated with temperatures three degrees Celsius higher than pre-Industrial Revolution levels. The UN-targeted maximum rise is 2C.
"Our analysis shows how serious the long-term impacts for our cultural heritage will be if climate change is not mitigated," study co-author Anders Levermann from the Potsdam Institute for Climate Impact Research (PIK) said in a statement.
The average global temperature has already increased by 0.8C on pre-industrial levels.
According to the UN's Intergovernmental Panel on Climate Change (IPCC), it could rise by an additional 2.6 to 4.8C by the end of this century, on a scenario for high emissions of greenhouse gases.
Levermann and his team set out to study the impact on cultural heritage of climate change - a phenomenon whose effects are usually measured for nature, the economy and agriculture.
- additional reporting AAP