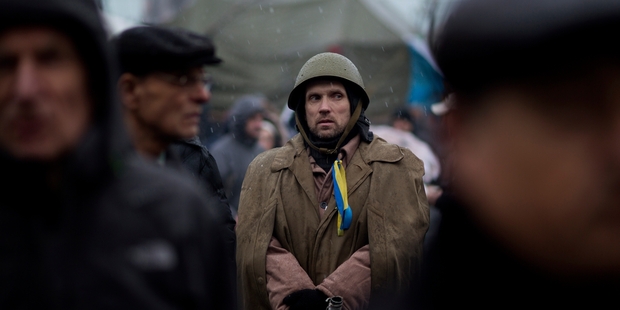 There may not be any fighting in Ukraine yet but as tensions ratchet up in Crimea, young men in Kiev were queuing to sign up for the army, ready to take up arms if it comes to a war with Russia.
"I want to take part in the fight," said Roman Surzhikov, a 33-year-old engineer and army reservist, one of a steady stream of people going into an army recruitment centre in the city centre yesterday, despite a "closed" sign outside.
"Have they declared a general mobilisation yet?" he asked the woman at reception.
Ukraine's Black Sea peninsula of Crimea has been under the de facto control of pro-Kremlin forces in recent days, while President Vladimir Putin has reserved the right to send troops into the autonomous but mainly Russian-speaking region. He denies claims that Russian soldiers are already operating there.
"It's obvious an intervention is under way in Crimea and it's not impossible there will also be one on Ukrainian territory," Surzhikov said as he explained why he wanted to enlist. "I can't say I look forward to it, but if there is going to be a war, it's my duty. We have to defend the country," he said, adding that "10 million men are prepared to take up arms".
For now, he was told to come back in a few days and leave his details. So far, only some Ukrainian army reservists are being called up and he was not one of them.
The Ukrainian army was put on alert over the weekend after Russia's Parliament gave Putin permission to send troops into Ukraine, a former Soviet state.
In response, the head of Ukraine's national security and defence council, Andriy Parubiy, announced on Monday that Kiev was to call up all military reservists, a move he said was to "ensure the security and territorial integrity of Ukraine".
While short of a general mobilisation, the announcement nevertheless drew hundreds of young men across the country eager to do their bit. Television footage showed long queues in front of recruitment centres. The Defence Ministry declined to reveal how many had signed up, saying the information was top secret.
Faced with more volunteers than it could take, the recruitment office in central Kiev decided to shut its doors until today.
Volodymyr Bykovski, who works at the office and has already been signed up himself, confirmed he had seen an influx of keen men - young and old - since the weekend.
"Most of them came on their own initiative" rather than being called up, he said, outside the centre flying the blue-and-yellow Ukrainian flag. "Many are disappointed because they thought a mobilisation was already under way but we're still telling them to wait, that we'll call them when it's time."
Not just individuals but companies have stepped forward - with computer equipment, for example - to help a Ukrainian army that has seen better days.
Compared with Russia's military force of some 845,000 troops, the Ukraine armed forces have six times fewer soldiers and their equipment is mostly outdated.
With this in mind, "people are scared of course, and I too am scared", said Bykovski. "But it has to be done, it's our duty."
This sense of patriotism in the face of stiff odds was shared by Dmytro Gerzhan, 42, who had left his contact details with the recruitment office.
"If the situation gets more complicated - who knows how things will develop, what Russia will do - we have to join up," he said.
At another recruitment centre, Arthur said he was spurred to sign up by the memory of the nearly 100 protesters killed in the violence in Kiev's Independence Square which preceded the ousting of pro-Moscow President Viktor Yanukovych late last month.
"After what happened ... it would be shameful not to go [and sign up]," the 23-year-old student said.
"I think it will all be resolved peacefully because the whole world is backing Ukraine and Ukraine has the truth on its side," he said. "But if Putin decides to start a war against a brother nation, a lot of men will be ready to defend the country."
- AFP
Crimea
Why is Crimea so important to Russia?
Crimea is strategically important as a base for the Russian Navy. The Black Sea Fleet has been based on the peninsula since it was founded by Prince Potemkin in 1783. The fleet's strategic position helped Russia defeat Georgia in the South Ossetia war in 2008, and remains crucial to Russian security interests in the region.
What can Russia hope to gain in Crimea?
Crimea still has a 60 per cent Russian population. Relations have been tense between Russia and Ukraine since the peninsula formally became part of Ukraine after the fall of the Soviet Union in 1991. Last week Russia's upper house of Parliament approved the use of force in Crimea, and the country has since demanded Ukrainian forces in the region surrender.
Is anyone obligated to defend the region?
The Budapest Memorandum on Security Assurance was signed in 1994 by Ukraine, the United States, Britain and Russia, to protect Ukraine's territory and sovereignty after its Soviet nuclear weapons were removed. However, it is a diplomatic document rather than a formal treaty and its legality is complex. It is said to morally oblige signatories to intervene in the event that Ukraine is threatened, but it cannot be enforced.
Will Nato act?
Ukraine is not one of the 28 member countries, however Nato officials warned they would back the "inviolability of [Ukraine's] frontiers".Will the United Nations act?As a permanent member of the UN Security Council, Russia is likely to block any UN mission to the region. The council met in a closed doors emergency session last Friday, and this week Secretary-General Ban Ki Moon called on Russia to "refrain from any acts that could further escalate the situation".
What about the world's only superpower?
President Obama warned Russia that there would be serious "costs" to any Russian military intervention in Ukraine. However, after failing to intervene in Syria and facing gridlock in Congress, it is unlikely that Obama would be willing to stage an intervention before the mid-term elections this November.
- Independent