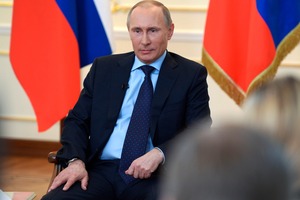 Russia has carried out a successful test-launch of an "advanced'' intercontinental ballistic missile, state news agencies reported amid a fierce standoff between Moscow and the West over Ukraine.
"The purpose of the launch is to test the advanced payload of the intercontinental ballistic missile,'' Russia's three main news agencies quoted a top defence official as saying.
The defence official said the launch involved the RS-12M Topol - a road-mobile missile last reportedly tested by Russia on December 28.
The missile was first put into service in the 1980s and then repeatedly modified. It is referred to as the SS-25 Sickle by NATO and has a reported maximum range of 10,000 kilometres.
The defence official provided no details of the missile's advanced features, saying only that it was launched from Russia's Kapustin Yar rocket launch site near the southern city of Volgograd.
The missile successfully hit its target in the Sary Shagan ballistic missile test range that Russia leases in Kazakhstan.
Russia has been testing warheads that could evade a missile defence shield the United States is deploying together with NATO in Europe over Russia's strong objections.
The Russian defence official said the test was designed to check the warhead's ability to "penetrate missile defence systems''.
The test was conducted amid a fierce standoff between Russia and the West over Ukraine, whose Crimean peninsula has been taken under de facto control by Kremlin-backed troops since the February 22 ouster of Moscow-backed president Viktor Yanukovych.
A US official said that Russia had notified Washington of the missile test in advance.
"We have been notified of this test earlier this week. It's not unexpected,'' the US defence official told AFP on condition of anonymity.
Putin seeks to calm tensions over Ukraine
Meanwhile Russian President Vladimir Putin has calmed fears of an imminent war between Russia and Ukraine's new authorities but also made clear that Moscow has no intention of loosening its new grip on Crimea in defiance of Western anger.
Breaking an uncharacteristic silence since the downfall of president Viktor Yanukovych 10 days ago, Putin displayed no fear of a prolonged crisis in ties with the West over the situation in the Ukrainian region of Crimea which is now controlled by pro-Moscow forces.
Read more of the Herald's Ukraine coverage from today:
My people are ready to fight, says NZ Ukrainian
Unanimous backing for McCully stance on Ukraine
He also showed zero inclination of recognising the new Kiev authorities which came to power after the ousting of Yanukovych but admitted the deposed leader had neither a political future nor any authority.
The standoff between Moscow and the new pro-West leadership had prompted apocalyptic fears of Russian tanks rolling across Ukraine's eastern borders in a conflict that could draw in NATO.
But Putin's comments appeared to calm the wildest scenarios while making clear his steely determination that Russia would not give up its newly-acquired control over Crimea, a region with a majority Russia-speaking population.
Even the format chosen for his comments - an avuncular chat with hand-picked Kremlin pool correspondents rather than an address to the nation - appeared to have been chosen to create a milder impression.
- 'Radical scenario set aside' -
"Putin made clear that they will not be an extensive war - at least such a radical scenario has been set aside," said Alexei Makarkin of the Centre for Political Technology in Moscow.
"But he will not leave Crimea and he is going to preserve real control there."
The Russian strongman said Russia would use force as a "last resort" and there was no current necessity to send troops in.
Putin strongly denied that Russian troops were already in Crimea and said that it was "local self defence forces" who were in control of the Black Sea peninsula.
It appears Putin wants to keep Crimea part of Moscow's sphere, even if the rest of Ukraine is not set to drift to the West after the ousting of Yanukovych.
Formal annexation to Russia may not be on the cards but Putin will make sure the writ of the Kiev authorities has little value on the peninsula.
A pro-Kremlin prime minister has already been named in Crimea and a referendum set for March 30 is set to seal its status as a Moscow satellite.
Makarkin said Crimea may become a region like the impoverished Russian-speaking Transdniestr breakaway region of Moldova which is kept functioning by Moscow. Another, more extreme option, would be recognising its independence in the future, as Moscow did with the Georgian breakaway region of Abkhazia.
'Putin wants Crimea as souvenir'
For a man who famously described the break-up of the USSR as the greatest geopolitical tragedy of the 20th century, there is a huge attraction in grabbing Crimea, a region which many Russians regard as part of their nation.
Putin is also eyeing the situation in the largely Russian-speaking east of Ukraine but that region would prove a far bigger - and more dangerous - mouthful for the Kremlin.
"He wants to show that we are not going to give up Crimea but we don't want a rupture with the international community," said Makarkin.
Putin a week ago was soaking up praise for Russia's smooth organisation of the Sochi Olympics but showed remarkably little concern about the international repercussions, shrugging off Western threats not to show up to the G8 summit Russia is due to host in Sochi.
"If they don't want to come, they don't need to," he said.
"The reaction of the West is currently weak, it does not bother him," said Nikolai Petrov, professor at the Higher School of Economics. "He is not worried by the declarations and sanctions of the United States."
"If Ukraine has decided to leave the Russian embrace, then Putin is going to want to keep a piece of Ukraine as a souvenir - at least Crimea or maybe the east."
- AFP