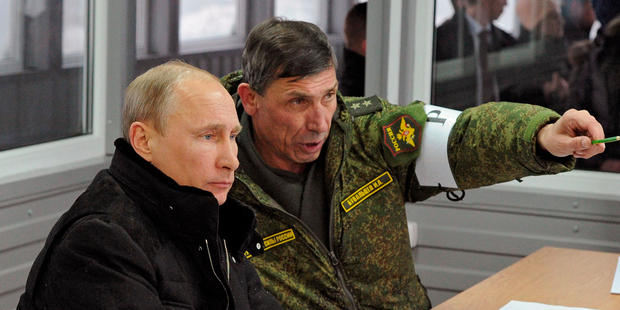 Russian military intervention in Ukraine is a gambit by President Vladimir Putin that has far-reaching global consequences and harbours risks that may outweigh the benefits, analysts said yesterday.
The shock request by Putin and rapid parliamentary approval to use military force in Ukraine at the weekend will rally domestic patriotism but may cripple Russia's economy and drive the country into isolation worse than during the Cold War, they said.
"It's the most serious crisis in modern Russia since 1991, there has been no similar situation," said political analyst Alexei Makarkin, referring to the year the Soviet Union collapsed.
Unlike in Soviet times, when the country had a closed economy, Russia is now fully integrated into global markets and likely sanctions will be "catastrophic", he said.
Pro-Kremlin pundits and state media have presented intervention as a gesture of solidarity with Russian citizens and Russian speakers in Crimea and eastern Ukraine.
They see grave danger from Kiev's new Government, denounced as extremist in Moscow, whose anti-Kremlin agenda is backed by the West.
Leonid Slutsky, a lawmaker with the ruling United Russia party, which organised a march on Monday in support of Putin's call for troops, said the Crimea situation is a "civilisational battle with the West that Russia has no right to lose" and which will consolidate Russian society.
Putin has not made a single public comment on the situation in Ukraine for weeks, but was reportedly closely counselled by Sergei Glazyev, a hawkish Kremlin adviser who last month said the West was behind a rebellion, with the US alone giving the "militants" US$20 million ($24 million) every week.
Domestically, Putin will reap benefits from his image as a saviour of the Russian people in Ukraine, Makarkin said. As for his image abroad, "he no longer cares how he looks".
Ukraine became a dividing line between Russia and the West, and Putin sees it as a zero sum game, said Jan Koehler, an Eastern Europe specialist at Berlin's Free University.
"Putin is willing to take the risk, because he thinks the risk is worth it," he said of Putin's decision.
Russian markets and the rouble currency plunged yesterday after the shock developments in the Crimea. Moscow's long-term economic plan for the region, mainly a no-frills tourist destination, was also questioned.
Past experience of Russia's recognition of Georgia's rebel region of Abkhazia as independent suggests that Crimea could also become an economic black hole for Russia's federal money where no Western company would ever invest.
"Russia wants to expand its influence in the world via the lost Soviet territories, that is Russia's modern geopolitics for which it will have to pay," said Valery Garbuzov of the US and Canada Institute in Moscow.
The conflict may turn into a protracted standoff with a deadend, and Russia's losses will be similar to losses in the Cold War, he said.
Countries stopping preparations for the G8 summit in Putin's showpiece Black Sea resort and 2014 Winter Olympics host Sochi is only the first in a long list of blows to Russia's image, he said.
"This is the worst crisis in Russia-West relations of the entire Putin rule," said Alexei Malashenko of the Carnegie Moscow centre.
"Russia risks becoming in total political and economic isolation, even worse than during the Afghanistan intervention," he said.
Seeing Moscow's troops in Ukraine is also likely to alarm its greatest allies like Kazakhstan and backfire on Putin's dream of closer integration with former Soviet states, he said.
In an editorial, the influential Vedomosti daily said dispatching troops to Ukraine sends a message that Russia wants to recreate the Soviet empire by force.
- AFP