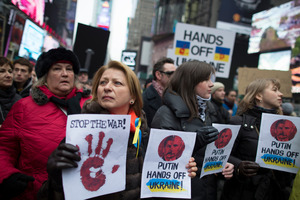 US Secretary of State John Kerry will travel to Kiev this week in a high-profile show of support for the embattled Ukrainian leadership, as Washington begins to implement punishing cuts in normal ties with Moscow.
The announcement came after Kerry warned Russia risked being stripped of its coveted seat among the prestigious G8 nations, as well as faced economic turmoil and sanctions, for the "brazen act of aggression" on the Crimean peninsula.
The surprise stop was added onto the top US diplomat's planned trip to Rome and Paris amid growing alarm at fast-moving events in Ukraine, with senior officials saying Russian forces now had complete control of southern Crimea.
Kerry will meet on Tuesday in Kiev "with senior representatives of Ukraine's new government, leaders of the Rada and members of civil society," State Department spokeswoman Jen Psaki said in a statement.
He "will reaffirm the United States' strong support for Ukrainian sovereignty, independence, territorial integrity," she added.
A senior administration official told reporters on a conference call that Russian forces were "now in complete operational control of the Crimean peninsula".
"There is no question that they are in a occupation commission in Crimea. They are flying in reinforcements and they are settling in," the official said.
After a 90-minute phone call with his Russian counterpart Vladimir Putin on Saturday, President Barack Obama spoke a day later with German Chancellor Angela Merkel, Britain's Prime Minister David Cameron and Polish President Bronislaw Komorowski.
Washington and its G8 allies were prepared to slap sanctions on Moscow, Kerry said, warning of damage to billions of dollars in trade and investment, as well as possible visa bans and moves by American businesses to quit Russia.
Kerry's blunt comments came as Kiev's interim leaders warned their country was on the brink of disaster, calling up military reservists after the Russian parliament voted to allow Putin to send in troops to its western neighbour.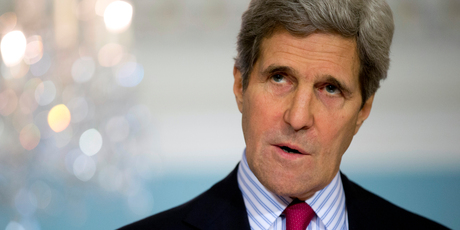 "If Russia wants to be a G8 country, it needs to behave like a G8 country," Kerry told CBS television's Face the Nation program.
Putin "is not going to have a Sochi G8, he may not even remain in the G8 if this continues. He may find himself with asset freezes on Russian business, American business may pull back, there may be a further tumble of the ruble," Kerry warned on NBC's Meet the Press.
The US, Britain and France have already pulled out of preparatory meetings for the G8, and, along with Washington and Canada, have threatened to boycott the June summit.
- AFP