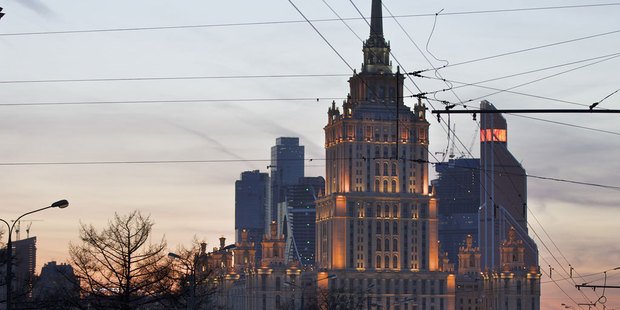 Ukraine's fugitive president may be enjoying VIP treatment under Moscow's protection, said to have been spotted at an opulent five-star hotel and a Kremlin country retreat.
But beneath the surface, the embrace has been chilly: State-run TV has portrayed him as a coward who betrayed those who stood by him.
The conflicting messages indicate that while Russia still considers him the legitimate president of Ukraine, it is far from happy with his handling of Ukraine's crisis.
Yanukovych made his appeal for protection in a written statement released simultaneously by two Russian state news agencies: "I have to ask Russia to ensure my personal safety from extremists," he wrote. Shortly afterward, the same agencies quoted an unidentified government official as saying that the request had been "satisfied on the territory of Russia." The ITAR-Tass and RIA Novosti news agencies often are used by the government to issue official statements.
With President Vladimir Putin largely silent, the Kremlin's tone on Ukraine has been set by Russian state television, which has denigrated the Ukrainian leader for failing to stand up to the protesters and taking flight, betraying those who stood by him.
Dmitry Trenin of the Carnegie Moscow Center said the descriptions of Yanukovych in state media leave little doubt how he's seen by Moscow.
"I think he simply failed in expectations that had been placed on him at the time that Putin was giving him large amounts of financial support, of which $3 billion are in danger of being never returned to Russia," Trenin said in a conference call with journalists.
"The relationship between Putin and Yanukovych is well-known to have been a very bad one, with the Russian leader not having much respect for his Ukrainian counterpart," the political scholar said. "So I think that they will give him protection, but he is not going to be an active element in any Russian strategy vis-a-vis Ukraine in the near future."
Since he was driven out of Ukraine's capital nearly a week ago after three months of protests, Yanukovych had been on the run.
His last public appearance was Saturday in the eastern Ukrainian city of Kharkiv, where he declared in a video address that he was still president and would not leave the country.
The opposition leaders who suddenly found themselves in charge of the country, however, said Yanukovych then promptly tried to fly out from Donetsk, also in eastern Ukraine, but was stopped by the border service. He then showed up on the Crimean Peninsula, where Russia has a naval base, according to the acting interior minister, who said Yanukovych and his remaining loyal guards were last seen driving away in three cars early Monday.
Yanukovych arrived in Moscow early Tuesday and checked into the Hotel Ukraina, according to the reliable RBK business daily, which said the information initially came from one of Russia's wealthy businessmen and was confirmed by a government official.
By Wednesday, Yanukovych had moved to the Barvikha Sanitorium, a well-guarded compound just outside the city with a hotel, cottages and medical center run by the presidential administration's property department, the report said. The spokesman for this department, Viktor Khrekov, told The Associated Press that he had no information about this.
RBK, however, cited an unidentified official in the presidential administration as saying that he had seen Yanukovych at Barvikha and he looked haggard and had lost weight. The report, written under the bylines of respected journalists with high-level contacts in business and government circles, could not immediately be confirmed.
A security guard turned away two AP journalists on Thursday as they approached the entrance to Barvikha. The gated compound was built in Soviet times as a place where ailing government officials could rest and receive medical care. Yeltsin, Russia's first post-Soviet president, stayed there often as his health declined.
At the Hotel Ukraina, security was unusually heavy late Wednesday, with police watching from parked vehicles outside. Security guards posted at the door and throughout the opulent lobby tracked visitors and guests.
RBK, citing the presidential administration official, said Ukraine's former prosecutor general, Viktor Pshonka, was still at the hotel and had checked into the presidential suite. On the hotel's website, the suite is described as meeting "the highest standards for security" and lists for about 340,000 rubles per night.
If he needs a new car, the hotel has a Rolls-Royce dealership on the ground floor.
Ukraine's acting government has warrants out for the arrests of Yankovych and Pshonka in the shooting deaths of dozens of protesters in Kiev last week.
Anatoly Kucherena, a Kremlin-connected lawyer, said Yanukovych's life was in danger in Ukraine and that Russia had no choice but to grant his request for protection, but it did not necessarily mean that he still had the Kremlin's support.
Kucherena, who spoke to the Interfax news agency, also represents Edward Snowden, the former National Security Agency systems analyst evading US espionage charges who has sought asylum in Russia, and often comments on legal issues. He has no known connection to Yanukovych.
In his statement asking for protection, Yanukovych said he still considers himself the president of Ukraine.
His future plans may become clearer Friday, when news agencies reported that he will give a press conference in Rostov-on-Don, a city in southern Russia about 1,000 kilometers (600 miles) from Moscow.
-AP
Here are the fundamental questions about why and how he has come to Russia:
Why has Russia offered sanctuary to Yanukovych?
The deposed president was long seen as the representative of pro-Russian forces in Ukraine. Now he has been defeated by pro-EU and anti-Kremlin forces who have formed a new government, Russia feels itself obliged to help him, whether it admires Yanukovych or not.
"Where else could he go?" said Alexander Konovalov, president of the Moscow Institute of Strategic Assessments. "As they say, he is 'a son of a bitch but our son of a bitch'," he said, referring to a famous remark attributed to US president Franklin D. Roosevelt about a Latin American dictator.
Does Russia have good relations with Yanukovych?
Despite his pro-Russian inclinations, Yanukovych by no means had smooth relations with the Kremlin and Putin. Reports have said that the Russian strongman regarded him as an unreliable partner and personal relations were also said to be dire. When Yanukovych came to Russia for the opening ceremony of the Sochi Olympics, he was granted only the briefest of meetings with Putin.
"Yanukovych completely failed to justify Putin's hopes," said Konovalov. Pro-Kremlin analyst Dmitry Orlov said that Yanukovych was notorious for sudden changes of mind. "He does not respect the accords that he signs."
Whether Yanukovych's presence in Russia can be politically useful to Russia remains to be seen and he may prove a burden who needlessly adds another issue to relations with the West.
"Yanukovych, like any cowardly dictator who has fled, has no interest for Russia. But Russia clearly believes it impossible to deny him asylum," said Boris Makarenko, head of the Centre for Political Technologies.
How did Yanukovych get to Russia?
It is still far from clear. Ukraine issued an arrest warrant for him and border guards were instructed to stop him leaving. Most likely he was evacuated out of Kiev by helicopter at the weekend and taken to pro-Russia Crimea, where Russia has its Black Sea naval base in the city of Sevastopol. He could then have inconspicuously travelled by boat onto Russian territory proper.
"I think he came from Sevastopol on a vessel," said Konovalov.
From Russia's Black Sea coast he could have moved on anywhere in the country. Unconfirmed reports had sighted him at a Moscow hotel or an out-of-town health spa.
However Russian news agencies said late Thursday he will give a news conference Friday in the southern Russian city of Rostov-on-Don which lies close to the Black Sea, making it unlikely that he has been to Moscow.
What next for Yanukovych?
Despite his claim he is still Ukrainian president, Yanukovych appears to be already political toast in his own country after fleeing. "The situation shows that in Ukraine there are no forces that support him," said Maria Lipman of the Carnegie Centre.
He could quietly live out his life in Russia, which is accustomed to offering sanctuary to the likes of deposed Kyrgyz ex-president Askar Akayev or members of the family of Serbian dictator Slobodan Milosevic.
Or he may be able to further Russian interests in Crimea, the one Ukrainian region which appears outright hostile to the new authorities and has long shown separatist tendencies.
"The appearance of Yanukovych shows that Russia is beginning the game for Crimea," said Yury Korgunyuk of the Indem think tank. "Yanukovych is the puppet who can be used to take control of Crimea."
- AFP